BUSINESS PLANNING
10 YouTube Videos Every Entrepreneur Should Watch. Eight Questions To Ask Before You Start A Business. Are you thinking of starting a web business?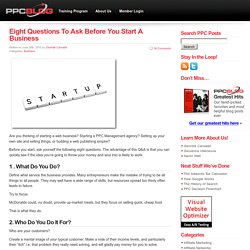 Starting a PPC Management agency? Setting up your own site and selling things, or building a web publishing empire? Before you start, ask yourself the following eight questions. The advantage of this Q&A is that you can quickly see if the idea you're going to throw your money and soul into is likely to work. 1 . Starting a Business: Advice from the Trenches. If you're like thousands of other designers, programmers and other creative professionals out there, at one point in time you've considered starting your own business.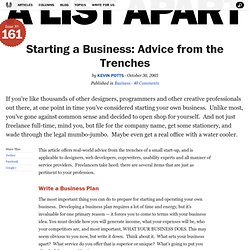 Unlike most, you've gone against common sense and decided to open shop for yourself. And not just freelance full-time, mind you, but file for the company name, get some stationery, and wade through the legal mumbo-jumbo. Maybe even get a real office with a water cooler. Is Starting A Business Safer Than Your Job? [Infographic] Share: With a slow economy, many people have turned to entrepreneurship as a means to pay the bills.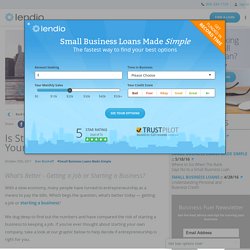 Which begs the question, what's better today — getting a job or starting a business? We dug deep to find out the numbers and have compared the risk of starting a business to keeping a job. Create a Killer Business Plan - Martha Stewart Community. You've got the idea, now package it well!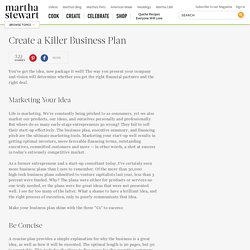 The way you present your company and vision will determine whether you get the right financial partners and the right deal. Marketing Your IdeaLife is marketing. We're constantly being pitched to as consumers, yet we also market our products, our ideas, and ourselves personally and professionally. But where do so many early-stage entrepreneurs go wrong? They fail to sell their start-up effectively. Starting a Business: Advice from the Trenches. What do you love? 106 Excuses That Prevent You From Ever Becoming Great. The following is a rare guest post, this time coming from Tommy Walker.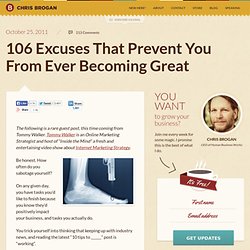 Tommy Walker is an Online Marketing Strategist and host of "Inside the Mind" a fresh and entertaining video show about Internet Marketing Strategy. Be honest. 45 Kick-Ass Resources for Online Entrepreneurs | Productive Entrepreneur. Few people talk about this great productivity tip… You will reach your goals faster and easier if you're willing to learn from others.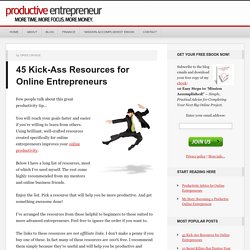 Using brilliant, well-crafted resources created specifically for online entrepreneurs improves your online productivity. Below I have a long list of resources, most of which I've used myself. The rest come highly recommended from my mentors and online business friends. How to Start a Startup. March 2005 (This essay is derived from a talk at the Harvard Computer Society.)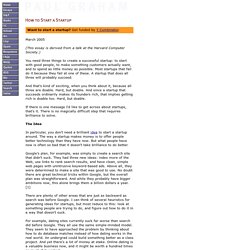 You need three things to create a successful startup: to start with good people, to make something customers actually want, and to spend as little money as possible. Most startups that fail do it because they fail at one of these. A startup that does all three will probably succeed. The U.S. Small Business Administration.
How to Win Friends & Influence People by Dale Carnegie. How to Build an Incredibly Lazy (and Successful) Business. Progress is made by lazy men looking for easier ways to do things.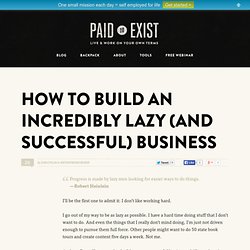 —Robert Heinlein I'll be the first one to admit it: I don't like working hard. I go out of my way to be as lazy as possible. I have a hard time doing stuff that I don't want to do. And even the things that I really don't mind doing, I'm just not driven enough to pursue them full force. 10 Biggest Entrepreneurs of 2011. Embed this infographic on your site!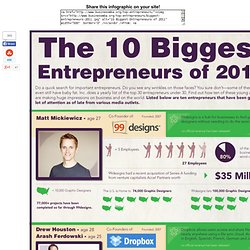 <a href=" src=" alt="10 Biggest Entrepreneurs of 2011" width="500" border="0" /></a><br />From: <a href=" Do a quick search for important entrepreneurs. Do you see any wrinkles on those faces? You sure don't—some of them might even still have baby fat. Is Starting A Business Safer Than Your Job? [Infographic] How to Win Friends and Influence People by Dale Carnegie.
---