Design & communication
We really can't deny the fact that businesses are testing out Twitter as part of their steps into the social media landscape. You can say it's a stupid application, that no business gets done there, but there are too many of us (including me) that can disagree and point out business value. I'm not going to address the naysayers much with this. Instead, I'm going to offer 50 thoughts for people looking to use Twitter for business. And by "business," I mean anything from a solo act to a huge enterprise customer. Your mileage may vary, and that's okay.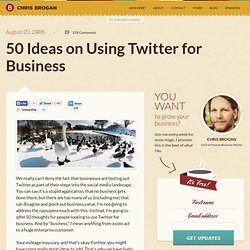 Hehehe... don't worry, you english isn't bad at all! You dont look like a noob!! Hope to see you soon! Jon by kidsonkreative Dec 19
Ne t'inquiète pas pour l'anglais. Je m'en sort pas trop mal en français. I will definately check out the pearl you put up! I will also definately contact you when and if I get to Nice. Yes, Avignon is a very nice city. The Luberon/Vaucluse is my home away from home as I spent 10 years there when i first came to France. Thank you... and talk to you soon. You have a nice time in Italy as well. Another place I love!! by kidsonkreative Dec 17
Phaleon, Hello... Jon here. I will be in Avignon for two weeks on vacation and will try to get to Nice during that time. If I do get down there I would be pleased to meet up with you. I will contact you before coming to see if you are available. All the best by kidsonkreative Dec 16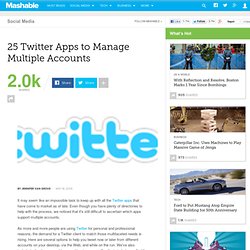 It may seem like an impossible task to keep up with all the Twitter apps that have come to market as of late. Even though you have plenty of directories to help with the process, we noticed that it's still difficult to ascertain which apps support multiple accounts. As more and more people are using Twitter for personal and professional reasons, the demand for a Twitter client to match those multifaceted needs is rising. Here are several options to help you tweet now or later from different accounts on your desktop, via the Web, and while on the run. We've also included a few browser add-ons and business-specific clients to help you find the right application to suit your Twittering needs. Desktop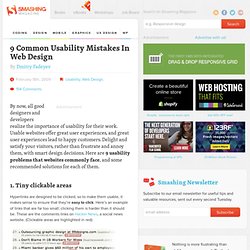 Advertisement By now, all good designers and developers realize the importance of usability for their work. Usable websites offer great user experiences, and great user experiences lead to happy customers. Delight and satisfy your visitors, rather than frustrate and annoy them, with smart design decisions.
The Roxor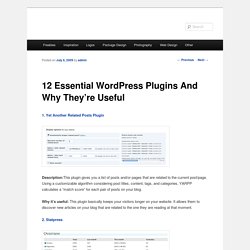 1.