Kiddaqua
Carl Sagan
king of the cosmos. king of the dnb jungle. soon to be celebrity.
Car Burnout Leaves Flaming Fire Tracks Video - Epic. Girlfriends Are Asking All The Questions Video - Jokes - StumbleUpon. Extreme Idiots Compilation - StumbleUpon. - StumbleUpon. - StumbleUpon. One Foot In The Future: &Living Materials& Could Produce Self-Repairing Shoes. Rachel Armstrong is a scientist who's interested in creating "living materials"—materials that can grow, repair themselves, and even respond to changes in their immediate environment.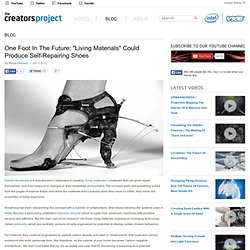 The concept reads like something pulled from the pages of science fiction, and while the materials aren't actually alive (they have no DNA), they mimic the properties of living organisms. Armstrong has been researching this concept with a number of collaborators. She helped develop the systems used in Philip Beesley's semi-living installation Hylozoic Ground, which is made from cybernetic machines with primitive sensors and effectors. But the main part of her research into these living materials explores an emerging technology called protocells, which are synthetic versions of cells engineered by scientists to display certain chosen behaviors.
The Fast Food Mafia -  AtmosRx   AtmosRx. Korean Tow Trucks Race to Reach an Accident First. Morgan Freeman. Robot Human Dancing. - StumbleUpon. This war...! - StumbleUpon. Little Kid Gives Epic Speech After First Bike Ride - Video - StumbleUpon. - StumbleUpon. Some rules i try to live by: - StumbleUpon. "I don't smoke, but my mom does. This is the note she left for me this morning." | Designer High @DesignerHigh.com. Coffee and Weed | Fun Marijuana Blog | THC Finder - Dispensaries - Legal Marijuana Dispensary and Cannabis Clubs at THCFinder. Sokoblovsky Farms - Russias Finest Purveyors of Miniature Lap Giraffes - StumbleUpon. - StumbleUpon. Girlfriend Fail! Video. Tropical Islands in Germany | awesome-elephant.com. - StumbleUpon. A stunning time-lapse of Iceland's nightless summer - StumbleUpon. Buy Miracle Berry Tablets - Miracle Fruit Tablets - Order Online. Love explained with images.
Fun fun fun fun - clikr. - StumbleUpon. Super Mario Rage. Smile of the Day 1/4/12: New Year's Resolutions. - StumbleUpon.
Sleep
- StumbleUpon. A great 4chan story | humorous photo. Happy New Year - Slideshows and Picture Stories - msnbc.com. - StumbleUpon. Facebook Fails 12-9 | Strange Beaver - StumbleUpon. - StumbleUpon. Aquabobo Tarasov (kiddaqua) Quote by Bob Marley: "Only once in your life, I truly believe, you find..." - StumbleUpon. Cyanide &Happiness #2565 - Explosm.net - StumbleUpon. Humor Image & I'm gonna get stuff done today! - StumbleUpon. - StumbleUpon. - StumbleUpon. Ross Nanotechnology's NeverWet superhydrophobic spray-on coating. - StumbleUpon. - StumbleUpon. Facts and Chicks. 32 Pictures You Need To See Before You Die: Pics, Videos, Links, News.
The Meaning of Life. - StumbleUpon. :: procatinator :: - StumbleUpon. Darth Vader conducts Christmas Choir Flash Mob - Carol of the Bells. - StumbleUpon. Motherfucking Technology. 1947 Franay-Bentley Mark VI | (SILODROME) This one-off 1947 Franay-Bentley Mark VI is widely considered to be the best (and most expensive) post-war Bentley ever made, that stunning and almost Bugatti-esque body was all hand fabricated by French coach builder Franay.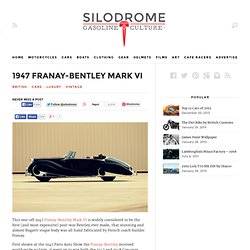 First shown at the 1947 Paris Auto Show the Franay-Bentley received world-wide acclaim, it went on to win both the 1947 and 1948 Concours d'Elegance and has won over 50 awards since, the car sold for $1,728,000 USD at Barrett-Jackson's Palm Springs auction in 2006 and is estimated to have increased in value by between 20% and 25% since then. The interior of the Mark VI is upholstered in 100% frog skin leather, that's something I've never seen before and it's difficult for me to imagine exactly how this was achieved or where they found all the frogs, but it is impressive none the less.
Portal: The Flash Version - StumbleUpon. Ninja Cat: Episode 1. A taxi driver's ultimate revenge on customer through... - StumbleUpon.
Pearltrees videos
Getting started.
---