Self Improvement
Learn it yourself
Life. Lifes Instructions. Motivation. Ive learnt that... Inspirational. Self Improvement. 10 Ways To Be Happy, On Purpose. "He who depends on himself will attain the greatest happiness" ~Chinese Proverb I was at a Women's Leadership Conference about a year ago and had an "ah-ha moment".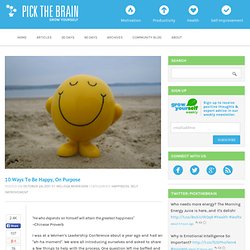 We were all introducing ourselves and asked to share a few things to help with the process.
111 Ideas For Creating Your Bucket List. What is a Bucket List?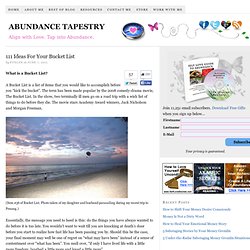 A Bucket List is a list of items that you would like to accomplish before you "kick the bucket". The term has been made popular by the 2008 comedy-drama movie, The Bucket List. Inspirational Quotes (20 pics) Sometimes All You Need Is A Little Inspiration to Keep Rolling. 20 Most Inspirational Quotes by Steve Jobs. Oct 6, 2011 The world lost a visionary yesterday.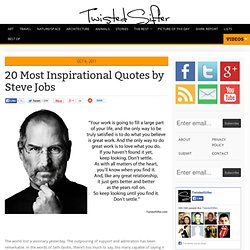 The outpouring of support and admiration has been remarkable. In the words of Seth Godin, 'there's too much to say, too many capable of saying it better than I ever could.' So instead, the Sifter will remember these words of wisdom from Steve Jobs himself. These 7 Lies Will Sabotage Your Success | Personal Success Factors. Want to Design Your Online Career Portfolio?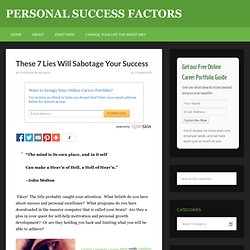 I've written an eBook to help you do just that! Enter your email address below for instant access "The mind is its own place, and in it self Can make a Heav'n of Hell, a Hell of Heav'n." –John Molton. Top 10 Things That Determine Happiness | MintLife Blog | Personal Finance News & Advice. Photo: meddygarnet Happiness is, by nature, a subjective quality with a definition like a moving target.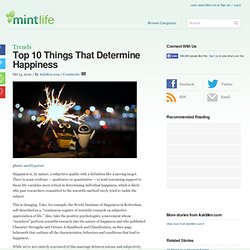 There is scant evidence — qualitative or quantitative — to lend convincing support to those life variables most critical in determining individual happiness, which is likely why past researchers committed to the scientific method rarely tried to tackle the subject. This is changing. Take, for example, the World Database of Happiness in Rotterdam, self-described as a, "continuous register of scientific research on subjective appreciation of life."
---