Quotes
Collected Quotes from Albert Einstein. [Note: This list of Einstein quotes was being forwarded around the Internet in e-mail, so I decided to put it on my web page.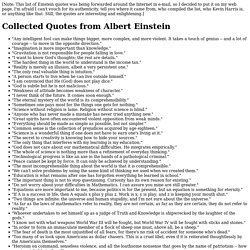 I'm afraid I can't vouch for its authenticity, tell you where it came from, who compiled the list, who Kevin Harris is, or anything like that. Still, the quotes are interesting and enlightening.] "Any intelligent fool can make things bigger, more complex, and more violent. 30 Best Quotes in Pictures of the Week - May 05th to May 12th, 2012. 1. "Put your hand on a hot stove for a minute, and it seems like an hour….." – Albert Einstein 2. "When you can't smoke" – Rory Sutherland 3. "Death does not concern us…" – Epicurus 4. "I think it's better to have ideas." – Chris Rock 5. "You gotta be able to smile…" 6. "Thousands of candles can be lit from a single candle…" – Buddha.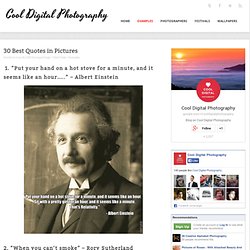 Find quotes about anything and everything - q.uote.it - StumbleUpon. Various quotations | #244 & From up North | Design inspiration & news - StumbleUpon. Quote Vs Reality - pete.com - StumbleUpon.
---