Philosophy
Mario David Fischer. Scrap Skyscraper by Projeto Coletivo. This conceptual skyscraper by Brazilian architects Projeto Coletivo would be constructed using rubbish in the city of São Paulo.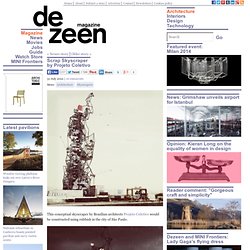 The architects imagine a series of the buildings beside the rivers Tietê and Pinheiros, with recycling centres in the lower levels and modular apartments for homeless people upstairs. Residents would be required to work in the recycling centres, cleaning and sorting their own rubbish for use in further construction and repairs. Future Primitives by Muller Van Severen. Interieur 2012: soft leather seats hang between the colourful plastic shelves of this furniture by Belgian design duo Muller Van Severen presented at the Interieur design biennale in Kortrijk, Belgium, last week (+ slideshow).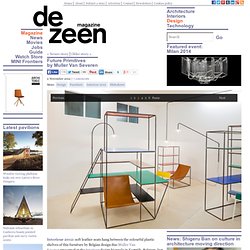 The collection includes shelving units in various heights and configurations, some with seats draped like deckchairs inserted into their frames, as well as standing and hanging lamps and separate chairs and loungers. Responding to the theme of Future Primitives set by Interieur, the designers began with what they saw as primitive forms and basic material, and updated them for the future by combining different functions.
Fresnel lenses make light curve in Arcades installation by Troika. Interieur 2012: beams of light appear to bend into curved gothic arches above this illusory passageway by London design studio Troika at the Interieur design biennale in Kortrijk, Belgium, this week.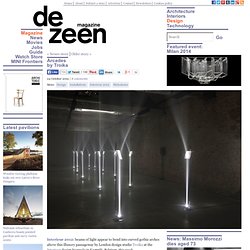 Above: photograph by Frederik Vercruysse The Arcades installation is formed from 14 columns of light that shine upwards in thin bars before passing through fresnel lenses. The lenses refract the light in a series of graduating angles, creating the illusion of curving light. Above: photograph by Frederik Vercruysse. Julie Schenkelberg's Domestic Object Installations. Julie Schenkelberg makes installations that look like domestic earthquakes.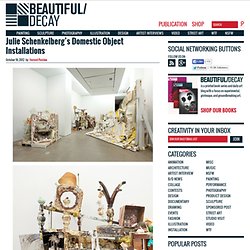 Her monumental pieces talk to us about the collective memory we share in objects and its inevitable disintegration. As most all domestic objects have some sort of function, their ubiquity–tables, chairs, lamps, plates, etc in every home– is a sign that our experience of the life is much more communal than individual, and likewise our memories. Julie takes the objects of our experience and compiles them into globs of memory, as they are probably situated in our own brains. But, like our own memories, she shows us these objects as broken and decaying in structures that look strong and sound but are, in the grand scheme of things, utterly tenuous. Ivi - institute for comparative irrelevance "Cascao & Lady Maru. And Oh My, Can Germans Drink. - Kook Magazine. Art by Olivia Shale.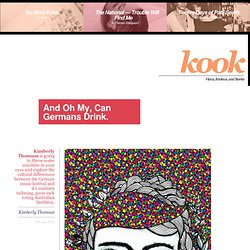 For a country where nobody jaywalks and everybody is on time, all the time, I was curious to see how Germany would react to the inevitable grime and utter social chaos of a three-day music festival. It had been a good long while since my last Australian festival season, and I was beginning to yearn for that sweet, familiar stench of grass and mud and unidentifiable bodily fluids.
As the excited chanting got louder and drunker, it seemed apparent that German's are indeed familiar with the reckless abandon of the festival spirit.Lacking a car, my travelling compatriots and I trudged, sleeping bags and backpacks underarms, to our city's main station. German trains are some of the cleanest trains in the world.
RIBA President's Medals Student Awards 2009. A project envisaging coastal defense towers that can be used as book depositories will be announced as one of the winners of the RIBA President's Medals Student Awards at a ceremony in London tonight.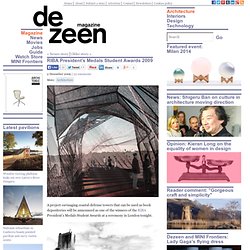 Above: A Defensive Architecture by Nicholas Szczepaniak Nicholas Szczepaniak from the University of Westminster will receive the Silver Medal for his project (above and below) called A Defensive Architecture, envisaging a series of coastal defence towers that can also be used as book depositories. Wen Ying Teh from the Architectural Association has won the Bronze Medal for her project An Augmented Ecology of Wildlife and Industry (top image), which explores combining industry and wildlife conservation in the Glapagos Islands to maximise the locality's resources.
The resulting design integrates a salt farm and a flamingo sanctuary. Movie: The Symbiotic Office by Richard Black. Movie: plants take over the offices of London's commercial district Canary Wharf in this movie by Oxford Brookes architecture graduate Richard Black.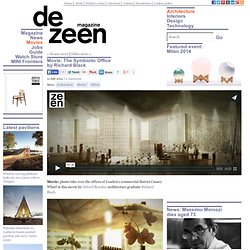 Black imagines the workplaces as a series of indoor gardens, where flowers sprout up between desks and pollen floats into the atmosphere through new openings in the existing glazed facades. The project has been nominated for the silver RIBA President's Medal, which last year was awarded to Kibwe Tavares for his movie about robots rioting on the streets of south London. If you're interested in animations, see our series by Tavares and his colleagues at architectural image studio Factory Fifteen.
Seeing is forgetting the name of the thing one sees. Auroville belongs to nobody in particular. Auroville belongs to nobody in particular. Cologne artist Simon Schubert creates intricate images of stately homes and palaces simply by folding plain white sheets of paper.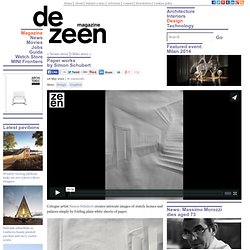 Folds in the surface create a relief of just a few millimetres, catching the light at different angles to create detailed pictures of architectural spaces. The animation above comprises 100 sheets of paper folded to resemble a fictional old house that was constructed in a CAD program, assembled as though the viewer chases a ghostly figure - in reality a flat area of paper - through the paper mansion. The still images depict the Berlin Stadtschloß, a former baroque royal palace in the centre of Berlin that was torn down when the east of the city was divided from the west.
The city plans to reconstruct three of the building's facades in their original style and replace the interior with a modern structure, though work has halted for the moment due to the enormous cost. Moses Bridge. They were constructed with no consideration of so-called beauty and. Ken Robinson says schools kill creativity. Elizabeth Gilbert on nurturing creativity.
Dan Phillips: Creative houses from reclaimed stuff.
---