Crafts
You knew i was going to make one. - StumbleUpon. They are all over pinterest....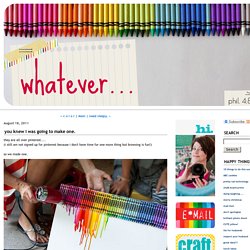 (i still am not signed up for pinterest because i don't have time for one more thing but browsing is fun!) So we made one. i took a box of 64 crayons and took out the blacks and browns.i used another small box and doubled up on the good colors i liked and hot glued them to the top of our canvas. Page corner bookmarks | I Could Make That. This project comes to you at the request of Twitterer @GCcapitalM.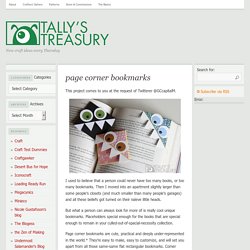 I used to believe that a person could never have too many books, or too many bookmarks. Then I moved into an apartment slightly larger than some people's closets (and much smaller than many people's garages) and all these beliefs got turned on their naïeve little heads. But what a person can always look for more of is really cool unique bookmarks. Craft Ideas - Easy Crafts for Kids, DIY Crafts and Knitting Patterns. Materials: 6"-square clear and colored acrylic panels clear window decal film for ink-jet printers (available at crafts stores) photos computer and ink-jet printer drill 1/8" drill bit 1/2" book rings (available at office supply stores) spray glue craft knife ruler1 yd ribbon or cord for hanging Instructions:ENLARGE photos to at least 7" square (to cover 6" acrylic panel with room to trim) photo and print onto window decal film using ink-jet printer, following directions on film package.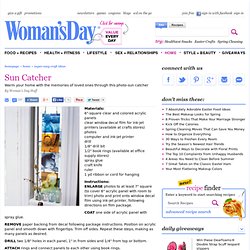 COAT one side of acrylic panel with spray glue. REMOVE paper backing from decal following package instructions. Position on acrylic panel and smooth down with fingertips. Crafts, food and life - Blog - It's doable...the flower wall art. What started it all...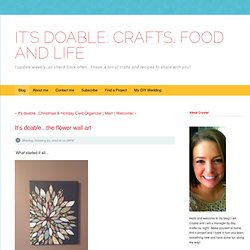 This was inspired by another Pinterest viewer, of which I've tried desperately to track down, I'm in the works though! -- The search comes to an end!! Thank you, CANDICE for such a beautiful and fun craft!! 138204282284710586_UHtvFvrk_c.jpg (554×569) Make It: Chalkboard Paint. DIY | Handmade | Craft | Ideas - CraftGossip.com.
Hair Do-hickies. Holiday Crafts. Crafter Wedding. Repurposing. Flower Simplicity. Paper Fun. For the Home. Momtastic. Sew-tastic.
---