Cakes
The Most Dangerous Chocolate Cake. Just For one. «
So I have been strumming my fingers on the keyboard for a while now. I am in a dilemma about the recipe I am posting today. Should I share this recipe or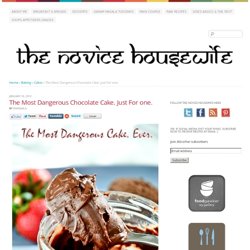 Cookie Wednesday: Valentine's Day Cakepops
Valentines Cakepops I posted on facebook some pictures of the cakepops I made and had a few friends send me messages and texts asking how to make them, so I thought I would give the instructions today for Cookie Wednesday. Instructions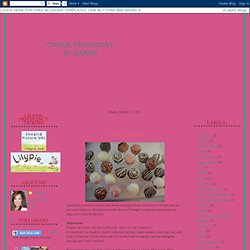 Fresh Strawberry Yogurt Cake Fresh Strawberry Yogurt Cake Every time I take the kids berry picking, I think to myself, "I could totally do this.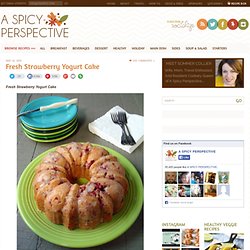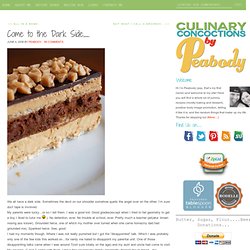 We all have a dark side. Sometimes the devil on our shoulder somehow quells the angel over on the other. I'm sure duct tape is involved. My parents were lucky…or so I tell them.
Come to the Dark Side
1 quart French vanilla ice cream (block form preferred) 2 ½ cups coconut, toasted* and divided 10 fudge covered graham crackers, broken and divided 14 hard macaroon cookies, broken and divided 1 cup Carmel sundae syrup, divided ½ cup miniature chocolate chips, divided Smucker's® Chocolate Fudge Magic Shell® Topping Heat oven to 350º F. Grease the bottom of a 10-inch spring-form pan.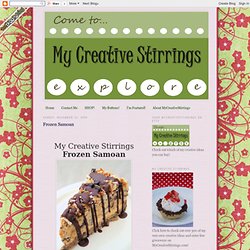 My Creative Stirrings: Frozen Samoan
Panera Bread and Salted Caramel Bread Puddings
A few weeks ago the kind folks from Panera Bread emailed me and asked if I'd like to be part of their blog program. My reply? Yes ! Then I further read they'd give me free baked goods, and pay me. Seriously?!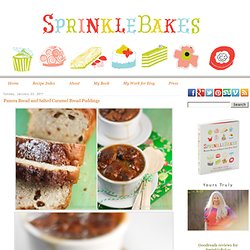 Blueberry Banana Cake with Cream Cheese Icing recipe from The Kitchn | punchfork.com
The Real Crepe Cake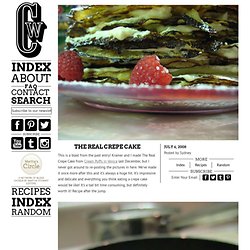 This is a blast from the past entry! Kramer and I made The Real Crepe Cake from Cream Puffs in Venice last December, but I never got around to re-posting the pictures in here. We've made it once more after this and it's always a huge hit. It's impressive and delicate and everything you think eating a crepe cake would be like!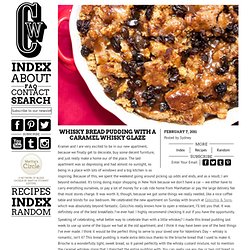 Whisky Bread Pudding with a Caramel Whisky Glaze
Kramer and I are very excited to be in our new apartment, because we finally get to decorate, buy some decent furniture, and just really make a home our of the place. The last apartment was so depressing and had almost no sunlight, so being in a place with lots of windows and a big kitchen is so inspiring. Because of this, we spent the weekend going around picking up odds and ends, and as a result, I am beyond exhausted. It's tiring doing major shopping in New York because we don't have a car – we either have to carry everything ourselves, or pay a lot of money for a cab ride home from Manhattan or pay the large delivery fee that most stores charge. It was worth it, though, because we got some things we really needed, like a nice coffee table and blinds for our bedroom. We celebrated the new apartment on Sunday with brunch at Colicchio & Sons , which was absolutely beyond fantastic.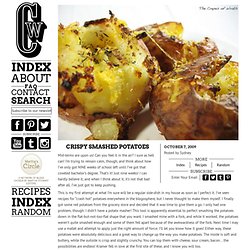 Mid-terms are upon us! Can you feel it in the air? I sure as hell can! I'm trying to remain calm, though, and think about how I've only got NINE weeks of school left until I've got that coveted bachelor's degree.
Recipe: Tiramisu Bread Pudding Guest Post from Teanna of Spork or Foon? | Apartment Therapy The Kitchn
Bread Pudding ranks up there with rice pudding for me. And when I say "ranks up there", I mean, "YUCK". I have a thing with soggy carbs.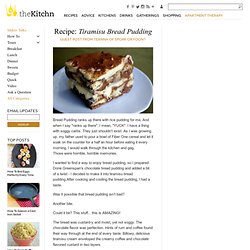 Recipe: Blueberry-Oat Quick Bread | Apartment Therapy The Kitchn
It's impossible to resist picking up a pint of fresh berries from the farmers market this time of year, so why even try? This quick bread recipe uses just one cup of berries and makes a slightly sweet loaf that's perfect for summer snacking. I don't want to tell you how to eat your blueberry loaf, but I highly recommend having at least one slice slathered in butter while the bread is still warm from the oven. I also love toasting slices from the leftover loaf so that those nooks and crannies get just a little crispy. (Slather with butter, repeat.) This recipe makes a loaf that is just a touch sweet, keeping it firmly in the snacking category rather than the dessert category.
Breakfast was not a special meal in my house growing up. At least, not in the sense that we enjoyed fancy homemade cinnamon rolls and coffee cakes on a regular basis. Sure, we made pancakes (from a box) on weekends, but it was nothing to write home about. In fact, I had never heard of the strangely titled dish Monkey Bread until I started food writing a few years back.
See this? This is such an easy dessert. It looks a little fancy, doesn't it? Don't be put off. It only takes a few ingredients, and it doesn't even involve turning on the oven.
Calling all Chocoholics! I will stop at nothing to bring you a fix! Last month I received an email "forward" from my brother-in-law with a recipe for a 5 Minute Chocolate Microwave Mug Cake. My first reaction as a long time baker was suspicious, but the concept was intriguing.
Alex's birthday was this past weekend and in case you are new here, let me give you a loose outline of a Standard Dessert Alex Politely Requests: Chocolate . Chocolate with chocolate . Chocolate with caramel .
Lemon-poppy seed cake with vanilla-cream cheese frosting and 4 years of blogging