ART
Get flash to fully experience Pearltrees
El lowbrow o surrealismo pop es un movimiento artístico que nace de la cultura underground y ha venido tomando influencias de varias fuentes con el paso de los años: caricaturas clásicas, sitcoms sesenteros, rock psicodélico (y cualquier otro tipo de rock), pulp art, pornografía, cómics, ciencia ficción, películas de terror serie B, animación japonesa y un montón más de ofertas culturales que la actualidad nos ofrece. Como movimiento, el Lowbrow aparece alrededor de 1994, cuando se funda la revista Juxtapoz . En donde se da exposición a artistas del mismo género. Pero las raíces del Lowbrow, van décadas atrás con los hotrods de la zona sur de California y la cultura surf local. Ed "big daddy" Roth es frecuentemente acreditado como promotor del lowbrow como movimiento al crear Rat fink a finales de los 50s.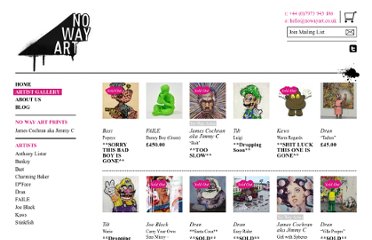 Bast Popeye Bunny Boy (Green) James Cochran aka Jimmy C 'Bolt'
"Graphite realism" is the best term to describe Armin Mersmann 's artwork. His drawings look very similar to photographs. Notes about the artist (from bio): Armin Mersmann was born in Remscheid, Germany in 1955.
art | 03.24.13 the easter bunny has taken on father christmas and won, at least in chocolate form. record numbers of german-made chocolate bunnies will hop their way into shops this year, millions more than the (read more) art | 03.23.13