Food
Instagram. TASTE. Wining and Dining in Chile Whilst the steak and wine was unbeatable in Argentina, there wasn't a whole lot of variety from the carnivorous orgy.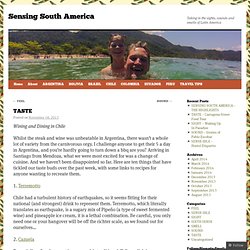 I challenge anyone to get their 5 a day in Argentina, and you're hardly going to turn down a bbq are you? Arriving in Santiago from Mendoza, what we were most excited for was a change of cuisine. Instagram. KellyGGrassam : #foodporn. Smoked trout kedgeree « Rocket & Squash. I received a pair of pyjama bottoms from [Mum] Father Christmas back on 25 December.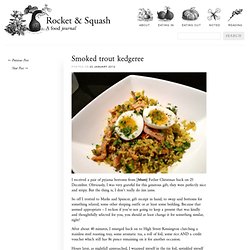 Obviously, I was very grateful for this generous gift; they were perfectly nice and stripy. But the thing is, I don't really do jim jams. So off I trotted to Marks and Spencer, gift receipt in hand, to swap said bottoms for something related, some other sleeping outfit or at least some bedding. Because that seemed appropriate – I reckon if you're not going to keep a present that was kindly and thoughtfully selected for you, you should at least change it for something similar, right?
After about 40 minutes, I emerged back on to High Street Kensington clutching a stainless steel roasting tray, some aromatic tea, a roll of foil, some rice AND a credit voucher which still has 86 pence remaining on it for another occasion. From Emily's Kitchen: Smoked Trout Kedgeree. Well, the title says it all, really.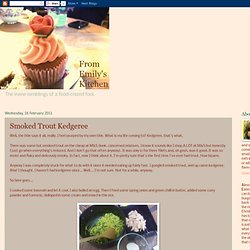 I feel usurped by my own title. What is my life coming to? Asparagus, smoked trout and poached egg on toast Recipe. Food / Stuffed baguette: hollow it out, fill it with cream cheese/goat cheese/other favorite cheese mixed with sundried tomatoes, salami, olives, bell pepper, and herbs. Slice. Eat. Angela Hartnett's sweet and sour pork ribs with lime and chilli recipe. This is a tasty and inexpensive recipe that's ideal for sunnier days – fire up the barbecue and get spicy with some fat, juicy ribs.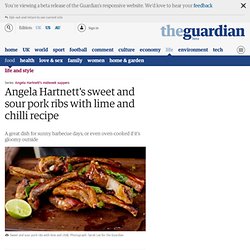 If you want extra heat and tang in your marinade, add the bits at the bottom of your mustard and vinegar jars. (Serves four) 8 pork spare ribs, separated1 lime2 tbsp honey1 dash tabasco1 dash of Worcestershire sauce1 dash soy sauce1 clove of garlic, crushedPinch of cuminPinch of chilliSalt and pepper Mix the above ingredients together, preserving some lime juice for serving later. Serious Eats: A Food Blog and Community. Angela's lighter chocolate tart recipe. *Simply Scratch*: Parmesan Garlic Bread: Last week was a busy week filled with a field trip to the zoo sandwiched by 3 twelve hour shifts.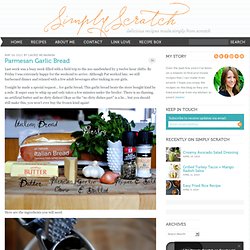 By Friday I was extremely happy for the weekend to arrive. Although Pat worked late, we still barbecued dinner and relaxed with a few adult beverages after tucking in our girls. White Bean and Lamb Cassoulet with Rosemary and Orange. Prep: 30 min Total: More than 60 min Try Kitchen View!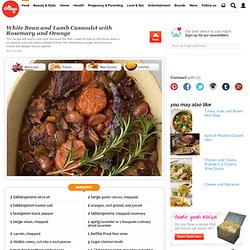 Take your computer to the kitchen and view this recipe full-screen, with step-by-step directions. Enter Kitchen View 1 In a large Dutch oven, heat the olive oil over medium-high heat. Add the lamb chunks and salt and pepper. Chicken Parmesan. Try Kitchen View!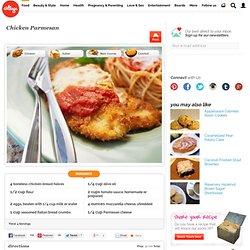 Take your computer to the kitchen and view this recipe full-screen, with step-by-step directions. Enter Kitchen View 1 Lightly pound the boneless chicken breasts to even out the thickness of the meat. Flour each piece and dip in egg mixture. Microwave mug cake. 70 Netmums like this 4 tbsp self raising (SR) flour 4 tbsp caster sugar 2 tbsp cocoa powder 1 medium egg 3 tbsp milk 3 tbsp vegetable/sunflower oil A few drops vanilla or other essence (orange, peppermint etc) 2 tbsp chocolate chips/nuts/raisins etc (optional) Use the largest mug you have to avoid it overflowing in the microwave!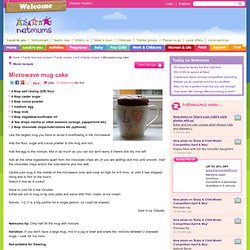 Punchfork — The best new recipes from top food sites.
---