Things to look for
Free Samples « Free Samples by Mail « Free Samples Hub .com. 23 incredible new technologies you'll see by 2021 | Matador Network - StumbleUpon. MoodINQ - Programmable Tattoo System. Lowest Price | ThisIsWhyImBroke.com - StumbleUpon. Will Smart Contact Lenses Be the Bluetooth Headsets of the Future? | Fast... Imagine instant access to the latest market segment information at a meeting, or seeing the fourth quarter earnings for a company in (literally) the blink of an eye.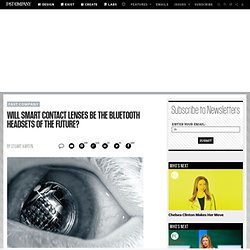 Although it might sound like something from a science fiction novel, scientists at the University of Washington are working on solar powered contact lenses with transparent LEDs embedded onto the lens. This technology could be applied in countless ways, from health monitoring to text translation right in front of the wearer's eyes. In 2006, my team at SKD designed a very similar concept for our "Cautionary Visions" project. Analyzing current trends in technology and popular culture, from emerging demands for constant connection to the increasingly blurred boundaries between natural and artificial, my designers imagined the dark alleys down which these trends could take us. Panoramic Camera Ball - Atomik - We Find The Awesome For You.
By James on October 24th, 2011 at 1:36 pm Art, Gadgets, Technology Welcome Stumblers!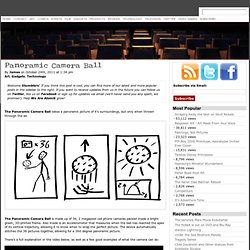 If you think this post is cool, you can find more of our latest and more popular posts in the sidebar to the right. If you want to receive updates from us in the future you can follow us on Twitter, like us on Facebook or sign up for updates via email (we'll never send you any spam, we promise!). New Type of Printer Makes Printers Sexy for the First Time Ever - Jest Video - StumbleUpon. Crypteks USB Drive - World's Most Secure USB Drive? - GeekExtreme. With the increasing use of portable data devices, keeping your data private has become quite hard.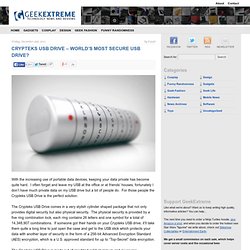 I often forget and leave my USB at the office or at friends' houses, fortunately I don't have much private data on my USB drive but a lot of people do. For those people the Crypteks USB Drive is the perfect solution. The Crypteks USB Drive comes in a very stylish cylinder shaped package that not only provides digital security but also physical security. IBM scientists unveil Racetrack memory chip prototype. 6 December 2011Last updated at 13:58 GMT Images of the Racetrack chip show a single column of 40 nanowires, and close-ups of the wires.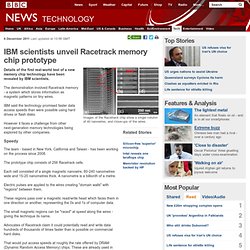 Details of the first real-world test of a new memory chip technology have been revealed by IBM scientists. The demonstration involved Racetrack memory - a system which stores information as magnetic patterns on tiny wires. Minimalist Multi-Touch Glass Keyboard And Mouse. Here's a cool project from kickstarter.com by Jason Giddings, a multi-touch glass keyboard and mouse.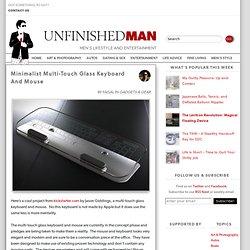 No this keyboard is not made by Apple but it does use the same less is more mentality. The multi-touch glass keyboard and mouse are currently in the concept phase and pledges are being taken to make them a reality. The mouse and keyboard looks very elegant and modern and are sure to be a conversation piece at the office.
---