Life/productivity
30 Things to Stop Doing to Yourself - StumbleUpon. Post written by: Marc Chernoff Email When you stop chasing the wrong things you give the right things a chance to catch you.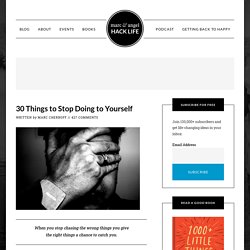 As Maria Robinson once said, "Nobody can go back and start a new beginning, but anyone can start today and make a new ending." Top 6 Sites that Inspire and Educate & Life Scoop - StumbleUpon. If you're a professional who likes to be intellectually stimulated and you enjoy keeping up with the latest news and breaking trends, the internet provides you with an endless choice of carefully curated sites to visit.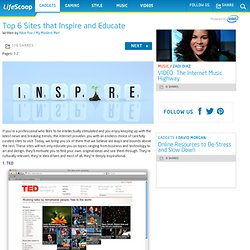 Today, we bring you six of them that we believe are leaps and bounds above the rest. These sites will not only educate you on topics ranging from business and technology to art and design, they'll motivate you to find your own, original ideas and see them through. The Dalai Lama's 18 Rules For Living - StumbleUpon. May 6, 2011 | 42 Comments » | Topics: Life, List At the start of the new millennium the Dalai Lama apparently issued eighteen rules for living.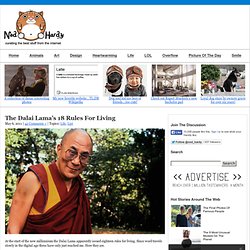 Since word travels slowly in the digital age these have only just reached me. Here they are. Take into account that great love and great achievements involve great risk. Online Flashcards | STUDYBLUE. Mobilize your notes.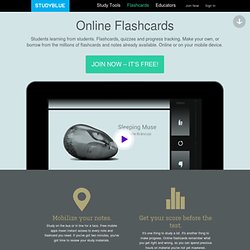 Study on the bus or in line for a taco. Free mobile apps mean instant access to every note and flashcard you need. What They Used To Teach You At Stanford Business School - Market Mo... - StumbleUpon. Chris Wyser-Pratte, who got his MBA from Stanford in 1972 and then spent the next 23 years as an investment banker, sent me the following note last night.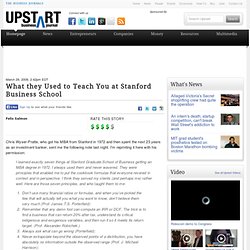 I'm reprinting it here with his permission: I learned exactly seven things at Stanford Graduate School of Business getting an MBA degree in 1972. I always used them and never wavered. They were principles that enabled me to put the cookbook formulas that everyone revered in context and in perspective. I think they served my clients (and perhaps me) rather well. Thinking like a genius: overview - StumbleUpon. Thinking and recall series Problem solving: creative solutions "Even if you're not a genius, you can use the same strategies as Aristotle and Einstein to harness the power of your creative mind and better manage your future.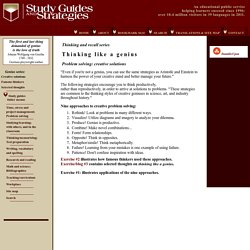 " The following strategies encourage you to think productively, rather than reproductively, in order to arrive at solutions to problems. "These strategies are common to the thinking styles of creative geniuses in science, art, and industry throughout history. " Nine approaches to creative problem solving: Memory Improvement Techniques - Improve Your Memory with MindTools.com - StumbleUpon. Use your whole mind to remember. © iStockphoto/Yakobchuk The tools in this section help you to improve your memory.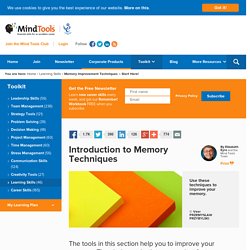 Become Who You Want To Be - StumbleUpon. Mental Heuristics Page - StumbleUpon. A heuristic is a "rule-of-thumb", advice that helps an AI program or human think and act more efficiently by directing thinking in an useful direction.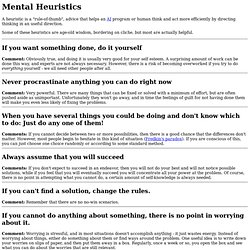 Some of these heuristics are age-old wisdom, bordering on cliche, but most are actually helpful. If you want something done, do it yourself Comment: Obviously true, and doing it is usually very good for your self esteem. A surprising amount of work can be done this way, and experts are not always necessary. However, there is a risk of becoming overworked if you try to do everything yourself - we all need other people after all. Gotes.jpg from viruscomix.com - StumbleUpon. Search results for "oscar wilde" (showing 1-20 of 1286 quotes) - StumbleUpon. 7 Not So Obvious Habits To Maximize Your Productivity - StumbleUpon.
I was a big fan of productivity, and, in some respects, I still am.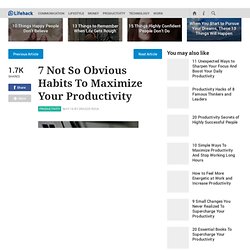 I've been a very early adopter of GTD, and, for years, I did my weekly reviews with the discipline of a zen monk. But, eventually, I hit a roadblock. GTD is about getting things "done", but in life we have much more to experience than "doing". We feel.
---