I Try College Resources
Statistics 2, 001|Fall 2009|UC Berkeley - Download free content from UC Berkeley. Critical Reasoning for Beginners - Download free content from Oxford University. Description Are you confident you can reason clearly?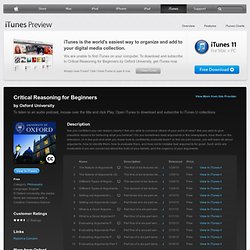 Are you able to convince others of your point of view? Are you able to give plausible reasons for believing what you believe? Do you sometimes read arguments in the newspapers, hear them on the television, or in the pub and wish you knew how to confidently evaluate them? In this six-part course, you will learn all about arguments, how to identify them, how to evaluate them, and how not to mistake bad arguments for good.
VLEs and Online Learning. ITryCollege.com - Free MIT Video Courses and Lectures Available on iTry College. How to get a Free Ivy League education - healthywealthywiseproject. Universities with the Best Free Online Courses. Free online courses are offered by real schools.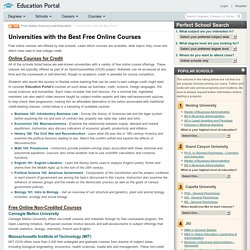 Learn which courses are available, what topics they cover and which ones lead to real college credit. Online Courses for Credit All of the schools listed below are well-known universities with a variety of free online course offerings. These classes are typically offered as part of an OpenCourseWare (OCW) project. Princeton University: WebMedia - Lectures. Online School - Online Courses. Self Made Scholar - Free Online Directory of Web Based Classes and Courses. Realtors can take ivy league courses online for free. Realtors can take ivy league courses online for free Are "how to enter a listing into the MLS" classes at your board or "how to sign up for Twitter" lectures at real estate conferences getting old?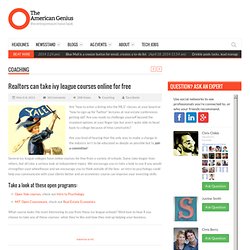 Are you ready to challenge yourself beyond the standard options at your finger tips but aren't quite able to head back to college because of time constraints? Are you tired of hearing that the only way to make a change in the industry isn't to be educated as deeply as possible but to join a committee? Technophilia: Get a free college education online. Ivy League colleges offer free online courses, Berkeley, Stanford, M. By Kim Clark, USNWR reprinted courtesy U.S.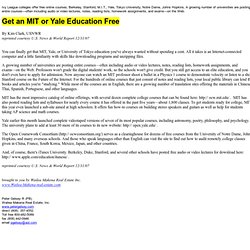 News & World Report 12/31/07 You can finally get that MIT, Yale, or University of Tokyo education you've always wanted without spending a cent. All it takes is an Internet-connected computer and a little familiarity with skills like downloading programs and unzipping files. A growing number of universities are posting entire courses—often including audio or video lectures, notes, reading lists, homework assignments, and exams—on the Web.
Yale University now offers free online classes. Yale University now offers free online classes Free Ivy League education anyone?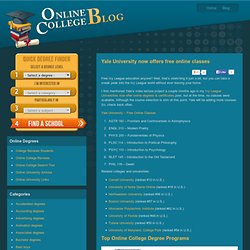 Well, that's stretching it just a bit, but you can take a sneak peak into the Ivy League world without ever leaving your home. Careers | combine purpose, passion and a paycheck. With decades of energy and passion ahead of them, five people will win the 2012 Purpose Prize® – and $100,000 each – for improving their communities and the world.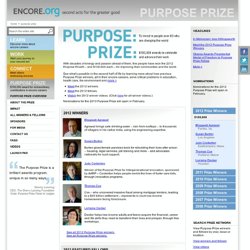 See what's possible in the second half of life by learning more about how previous Purpose Prize winners, all in their encore careers, solve critical problems in education, health care, the environment and more > Meet the 2011 winners. 100 Free Online Ivy League Courses You Should Take Just for Fun | AdvantageEDU. By Alisa Miller Even those without top notch grades can now go to Ivy League schools.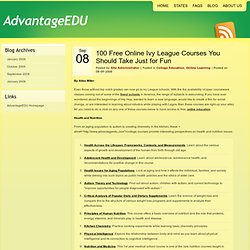 With the the availability of open courseware classes coming out of some of the finest schools in America, the range of subjects is astounding. If you have ever wondered about the beginnings of Hip Hop, wanted to learn a new language, would like to create a film for social change, or are interested in learning about robotics while playing with Legos, then these courses are right up your alley. All you need to do is click on any one of these courses below to have access to free, online education. Free Ivy League courses for high-schoolers - Springwise. Basics of Business Math Online Training Tutorials Course. Summary: This online training series provides over 0 hours of self-paced courseware.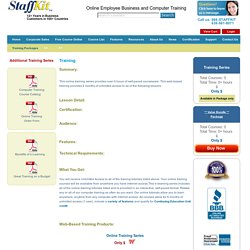 This web-based training provides 6 months of unlimited access to all of the following lessons: Lesson Detail: Mathematics in Business and Economics. Fractions A fraction is a part of a whole.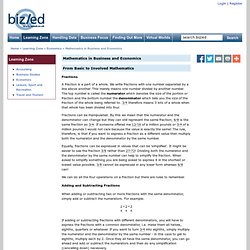 We write fractions with one number separated by a line above another. This merely means one number divided by another number. The top number is called the numerator which denotes the size of the portion or fraction and the bottom number the denominator which tells you the size of the fraction of the whole being referred to. 3⁄4 therefore means 3 lots of a whole when that whole has been divided into four. TextbookRevolution. Wesley Tyler's Cranial Seepage.
---