Canvas html5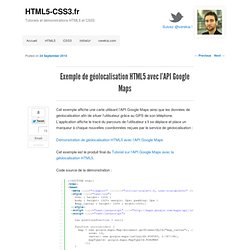 Exemple de géolocalisation HTML5 avec l'API Google Maps
var previousPosition = null; function initialize() { map = new google.maps.Map(document.getElementById("map_canvas"), {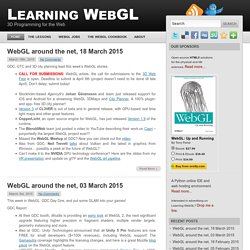 Building a WebGL Santa December 24th, 2013No Comments No roundup this week. We'll get back to that in the New Year. In the meantime… The Cesium AGI team has once again built the backbone for NORAD's Santa tracker.
Inka3D
Create amazing WebGL effects with shaders
Bartek Drozdz explains how to create stunning WebGL effects with shaders and his open source WebGL engine, J3D.
Build your own HTML5 3D engine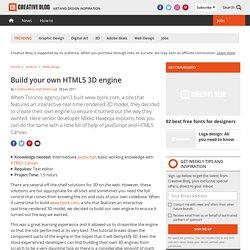 When Toronto agency Jam3 built www.bjork.com, a site that features an interactive real-time rendered 3D model, they decided to create their own engine to ensure it turned out the way they wanted.
HelloEnjoy™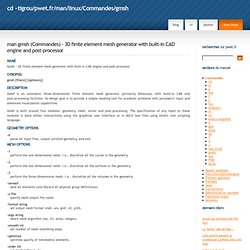 Gmsh - 3D finite element mesh generator with built-in CAD engine and post-processor gmsh [file(s)] [option(s)] Gmsh is an automatic three-dimensional finite element mesh generator (primarily Delaunay) with build-in CAD and post-processing facilities. Its design goal is to provide a simple meshing tool for academic problems with parametric input and advanced visualization capabilities.
man gmsh - 3D finite element mesh generator with built-in CAD engine and post-processor / Commandes / linux - (Navigation privée)
Javascript 3D Model Viewer