Testing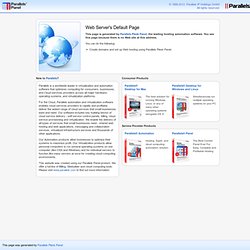 Parallels is a worldwide leader in virtualization and automation software that optimizes computing for consumers, businesses, and Cloud services providers across all major hardware, operating systems, and virtualization platforms. For the Cloud, Parallels automation and virtualization software enables cloud services providers to rapidly and profitably deliver the widest range of cloud services that small businesses want and need. Our software includes key building blocks of cloud service delivery - self service control panels, billing, cloud service provisioning and virtualization. We enable the delivery of all types of services that small businesses need - shared web hosting and web applications, messaging and collaboration services, virtualized infrastructure services and thousands of other applications. Our Automation products allow businesses to optimize their systems to maximize profit.
Neocubes España - distribudor oficial de neocubos en todo España. (19,95 EUR + 4,15 envío)
If you are already running RouterOS, upgrading to the latest version is simple. Just one click, and RouterOS will find the latest version, show you the changelog, and offer to upgrade. You can do this from Winbox, console, Webfig or QuickSet.
Routers and Wireless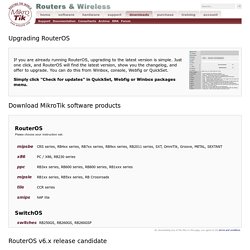 Download Trial Evaluation RADIUS Server for Windows
Freedom ♥ | Imatge
All songs by any music artist | allSongsBy
Home - How to get Open NAT on the Xbox One - How To Port Forward the Xbox One - How To Port Forward the Xbox 360 - How To Port Forward the PS4 - How To Port Forward the PS3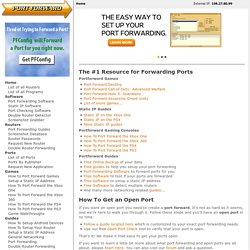 Hint: You can discover IP and MAC address of your computer by running: on the computer, or you can try to find it's MAC from another computer in your local network by pinging it, then displaying ARP table (where you can see IP to MAC correspondence): If you use a router you need to set it to forward all broadcast traffic from some port (typically 9) on your PC. This will only works if you have a dedicated, always-on internet connection, and a configurable router.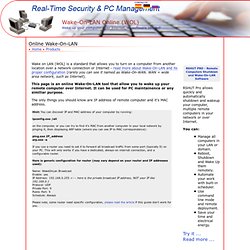 Wake-On-LAN Online (WOL) - Wake up your computer over Internet, no software needed!
Pyrit allows to create massive databases, pre-computing part of the IEEE 802.11 WPA/WPA2-PSK authentication phase in a space-time-tradeoff. Exploiting the computational power of Many-Core- and other platforms through ATI-Stream, Nvidia CUDA and OpenCL, it is currently by far the most powerful attack against one of the world's most used security-protocols. WPA/WPA2-PSK is a subset of IEEE 802.11 WPA/WPA2 that skips the complex task of key distribution and client authentication by assigning every participating party the same pre shared key. This master key is derived from a password which the administrating user has to pre-configure e.g. on his laptop and the Access Point. When the laptop creates a connection to the Access Point, a new session key is derived from the master key to encrypt and authenticate following traffic.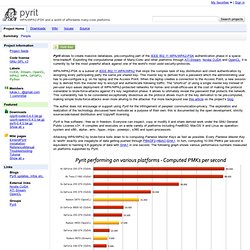 pyrit - WPA/WPA2-PSK and a world of affordable many-core platforms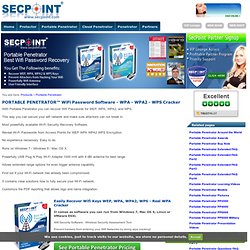 You are here: Products > Portable Penetrator With Portable Penetrator you can recover Wifi Passwords for WEP, WPA, WPA2, and WPS. This way you can secure your wifi network and make sure attackers can not break in. Most powerfully available Wi-Fi Security Recovery Software.
WPA Cracker,wpa crack - wpa cracking - wifi password cracking - Wifi Security Audit, WEP Crack, Wpa
Classroom Layout at CBT Supply at SMARTdesks.com: Classroom Computer Furniture, Classroom Design, Smart Desks for the Computer Classroom, Conference Tables, Laptop Tables and Podiums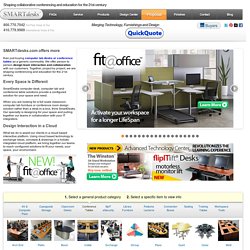 We enable our customers to participate in real-time collaboration with the sales, engineering, and design teams at SMARTdesks by using our superb cloud collaborative platform. This platform fosters a project-specific, organized collegial approach to meet "room by room" requirements for the computer lab furniture client. Integrative design collaborations are unencumbered by coordination of schedules because all teams communicate directly through a single project pipeline. Our technical department can also work with the customers' IT staff to configure connection boxes with the proper power, telecommunications, and cable connections. Any computer, laptop, tablet, and video conferencing equipment will directly plug and play into the SMARTdesks' conference room furniture.