DIY
Domestic for Dummies: Fall Pinterest Project: DIY Coasters - StumbleUpon. Is everyone ready for today's Pinterest challenge?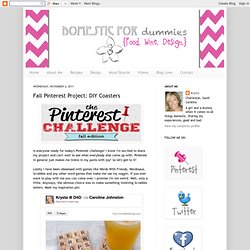 I know I'm excited to share my project and can't wait to see what everybody else came up with. Pinterest in general just makes me tinkle in my pants with joy! So let's get to it! Lately I have been obssessed with games like Words With Friends, Wordosaur, Scrabble and any other word games that make me use my noggin. Dorm Room Spa: 3 Easy DIY Beauty Recipes to Try - College Fashion - StumbleUpon. Photo Credit It's that taxing in-between time of the semester again – spring break is over, papers and projects are coming due, and finals are looming ahead.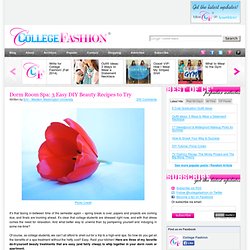 It's clear that college students are stressed right now, and with that stress comes the need for relaxation. Judah Method - Bleaching Experemnet on the Behance Network - StumbleUpon. How to: pore strips - StumbleUpon. You know those Biore pore strips you buy at the drugstore for about $12 a pop? Yeah, those. Today I'm going to teach you how to make your own homemade pore strips. Get Yo' Nails Did - StumbleUpon. Okay, so we're only three weeks in to this whole thing and I'm already showing you a tame look after I totally promised some of you that I'd do a newsprint nail tutorial this week.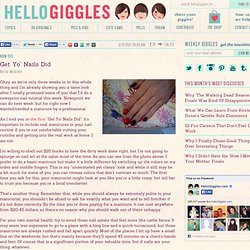 Newsprint we can do next week, but for right now I wanted/needed a manicure by a professional. As I told you in the first "Get Yo' Nails Did", it's important to include real manicures in your nail routine if you're not comfortable cutting your cuticles and getting into the real work at home. I am not. I'm willing to shell out $20 bucks to have the dirty work done right, but I'm not going to splurge on nail art at the salon most of the time. Loose Leaf Tea? Make Your Own Tea Bags! Like many of you, I LOVE loose leaf tea.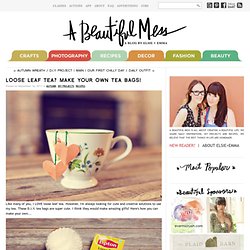 However, I'm always looking for cute and creative solutions to use my tea. These D.I.Y. tea bags are super cute. I think they would make amazing gifts! Most favorited all-time | craftgawker - StumbleUpon.
---