Travel
10 of the best budget hotels in New York. Posted on: September 21st in Cool Hotels, Travel by Graham Padmore.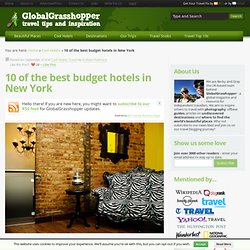 Like this Post? The Big Apple may be one of the ultimate city break destinations – shopping, art, sightseeing and so much more. It's also (like most major capital cities) unfortunately notoriously expensive. The Londoner: Slutty Brownies. Now I don't want to over sell this, so I'm going to be conservative and simply say, that these are...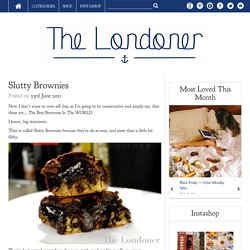 The Best Brownies In The WORLD. I know, big statement. They're called Slutty Brownies because they're oh so easy, and more than a little bit filthy. They're best served warm from the oven, with good quality vanilla ice cream (devastatingly I didn't have any in the freezer this time, so I guess I'll just have to make them again). They take about 45mins to make, including baking time. 10 of the Most Beautiful Castles in Italy. Scaligero Castle on Lake Garda Not all ruins and churches, Italy has some of the most beautiful castles in Europe!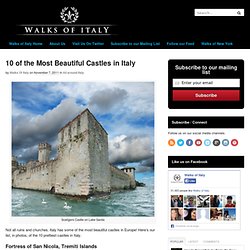 Here's our list, in photos, of the 10 prettiest castles in Italy. Fortress of San Nicola, Tremiti Islands. Phrases in 5 common languages to know when traveling in Europe. Traveling abroad this summer?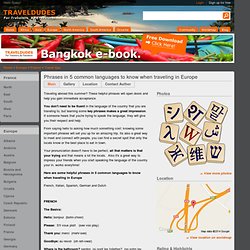 These helpful phrases will open doors and help you gain immediate acceptance. You don't need to be fluent in the language of the country that you are traveling to, but learning some key phrases makes a great impression. If someone hears that you're trying to speak the language, they will give you their respect and help. Luxury Resort Ayada, Maldives. Luxury Resort Ayada, Maldives Ayada Maldives is a brand new awe-inspiring destination comprising an opulent 112 villa resort located on the 150,000 square meter paradise island of Maguhdhuvaa in the stunning Gaafu Dhaalu Atoll.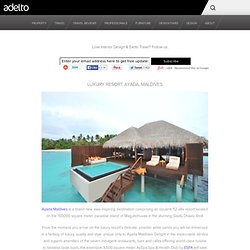 From the moment you arrive on the luxury resort's delicate, powder white sands you will be immersed in a fantasy of luxury, quality and style unique only to Ayada Maldives. Delight in the impeccable service and superb amenities of the seven indulgent restaurants, bars and cafes offering world-class cuisine to tantalise taste buds, the extensive 3,500 square meter AySpa Spa & Health Club by ESPA will take you to a blissful level of relaxation. Ayada further includes a kids' club, scuba diving centre and an array of water sports. The luxury Maldives resort with natural beauty at its heart where you can truly discover the exceptional.
Where to eat in Rome – by the city's cabbies | Travel | The Observer. "Are you coming to Rome for a holiday?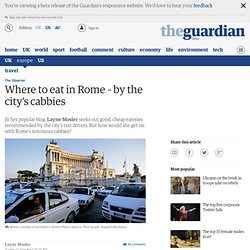 " the snowy-haired Italian sitting next to me on the plane asked. "Actually, no," I said. "I'm coming to write about taxi drivers. And their favourite places to eat. " The man, an engineer and hobby archaeologist who was born and raised in Rome, slapped his hand to his forehead. Nerdy Day Trips. Sistine Chapel. PARIS - panorama | © gillesvidal - photographe.
---