Archéologie
Compitum. Accueil. Institut de Recherches sur l'Architecture Antique. Langues et Cultures de l'Antiquité. Ressources Rome.
Mozilla Firefox. McManus Images Index VIII. Index of Images, Part VIII: Barbara F.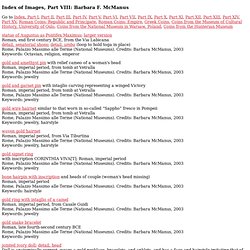 McManus Go to Index, Part I, Part II, Part III, Part IV, Part V, Part VI, Part VII, Part IX, Part X, Part XI, Part XII, Part XIII, Part XIV, Part XV, Roman Coins: Republic and Principate, Roman Coins: Empire, Greek Coins, Coins from the Museum of Cultural History, University of Oslo, Coins from the National Museum in Warsaw, Poland, Coins from the Hunterian Museum statue of Augustus as Pontifex Maximus; larger versionRoman, end first century BCE, from the Via Labicana detail, senatorial shoes; detail, umbo (loop to hold toga in place)Rome, Palazzo Massimo alle Terme (National Museums).
Credits: Barbara McManus, 2003Keywords: Octavian, religion, emperor gold and amethyst pin with relief cameo of a woman's headRoman, imperial period, from tomb at VetrallaRome, Palazzo Massimo alle Terme (National Museums). Archaeology Magazine. ESAG - Swiss School of Archaeology in Greece. Archeologie sur Archeophile.com. AUSONIUS. Regione Campania - Portale dei beni e delle attività culturali.
1 maggio 2010 - 30 maggio 2010 Cinque fine settimana per raccontare l'incontro di Napoli con la Spagna.
"Ritorno al Barocco e...non solo", è il Maggio dei Monumenti di Napoli 2010, che per la sua sedicesima edizione ha scelto di puntare sulle testimonianze che quest'incontro ha lasciato nel patrimonio culturale e nell'identità della città. 30 gennaio 2010 - 23 maggio 2010 Per la nuova stagione concertistica proposta per l'anno 2010 dal Centro di Musica Antica Pietà dei Turchini di Napoli un ricco calendario di prestigiose ospitalità e nuove produzioni affidate ad ensemble ed interpreti del panorama barocco: fra gli altri, "Le Musiche Nove" dirette da Claudio Osele, Europa Galante con Fabio Biondi al violino e direzione, La Risonanza di Fabio Bonizzoni, e ancora le voci di Vivica Genaux, Yetzabel Arias Fernandez, Simone Kermes. 28 settembre 2010 - 28 dicembre 2010.
---