Keyword research
Take Your Ho-Hum SEO to the Next Level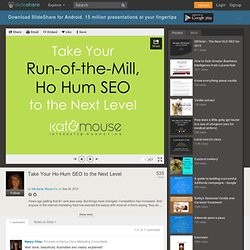 289 views Years ago getting that #1 rank was easy. But things have changed. Competition has increased. And anyone in the internet marketing field has learned the basics with most all of them saying "they do ...
How to Use the New Google AdWord Keyword Planner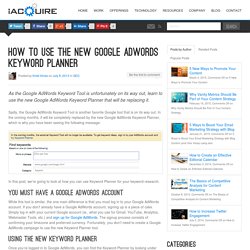 As the Google AdWords Keyword Tool is unfortunately on its way out, learn to use the new Google AdWords Keyword Planner that will be replacing it. Sadly, the Google AdWords Keyword Tool is another favorite Google tool that is on its way out. In the coming months, it will be completely replaced by the new Google AdWords Keyword Planner, which is why you have been seeing the following message: In this post, we're going to look at how you can use Keyword Planner for your keyword research.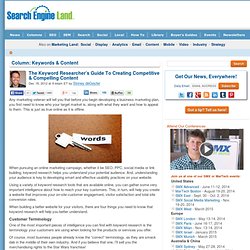 The Keyword Researcher's Guide To Creating Competitive & Compelling Content
Any marketing veteran will tell you that before you begin developing a business marketing plan, you first need to know who your target market is, along with what they want and how to appeal to them. This is just as true online as it is offline. When pursuing an online marketing campaign, whether it be SEO, PPC, social media or link building, keyword research helps you understand your potential audience.
How to Use The Keyword Planner -- The New Keyword Tool From Google AdWords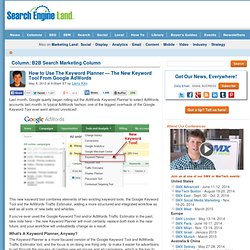 Last month, Google quietly began rolling out the AdWords Keyword Planner to select AdWords accounts last month. In typical AdWords fashion, one of the biggest overhauls of the Google Keyword Tool ever went almost unnoticed! This new keyword tool combines elements of two existing keyword tools, the Google Keyword Tool and the AdWords Traffic Estimator, adding a more structured and integrated workflow as well as all sorts of new bells and whistles. If you've ever used the Google Keyword Tool and/or AdWords Traffic Estimator in the past, take note here – the new Keyword Planner will most certainly replace both tools in the near future, and your workflow will undoubtedly change as a result. What's A Keyword Planner, Anyway?
These days, effective keyword research is an increasingly important skill for digital marketers. Not only do they need to know how to develop a good keyword list for PPC and SEO, but smart content marketers use keyword research to find out what topics they should write about and what phrases they should use while writing. But if you're reading this, you probably already know how important keyword research is.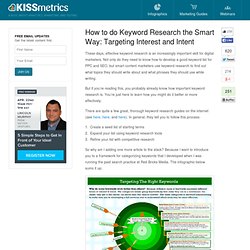 How to do Keyword Research the Smart Way: Targeting Interest and Intent
When Universal Orlando went to unveil The Wizarding World of Harry Potter in 2007, they didn't take out a $10,000,000 Super Bowl Ad or even a $10,000 Google PPC ad campaign. Instead, Cindy Gordon, VP of Marketing at the Orlando resort, did what is becoming more and more common these days to get the word out; they approached influential Harry Potter bloggers, just seven of them to be exact, and within 24 hours 350 million people worldwide had heard of the new attraction. This account clearly demonstrates the value of social media and what is becoming the new PR. And while this approach was brilliant, it's important not to be too impressed by those numbers. While most of those 350 million would love a trip to the Harry Potter World, how many of those can actually afford the trip from Europe, South America, Canada or wherever else they happened to live when they read the news? There are roughly 72 million families in the United States alone.
Extending Your PR Reach With Targeted Keywords | Sterling Communications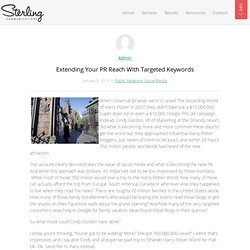 In this and some following articles, I'll outline the steps we've developed over the years to optimize pages to improve organic search results – not just rankings, but click-throughs and conversions, too. The first step is to choose the keywords to focus on and then map those keywords to pages on the site. Choosing Organic Keyword Phrases With Google Analytics
Organic Keywords: The First Step In Search Engine Optimization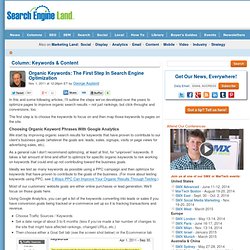 How to do Awesome SEO Keyword Research for a Standard Website
Note: This article is part of a series. To understand this piece I recommend you read part 1, which can be found here. Here's a downloadable Excel template to help you execute the process described in the article. Here's the process in a diagram: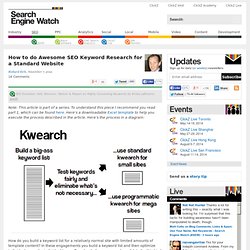 With Keyword Planner, we've combined the functionality of Keyword Tool and Traffic Estimator to make it easier to plan search campaigns. That's why Keyword Tool is no longer available. You can use Keyword Planner to find new keyword and ad group ideas, get performance estimates for them to find the bid and budget that are right for you, and then add them to your campaigns. Note To access Keyword Planner, sign in to your AdWords account at https://adwords.google.com.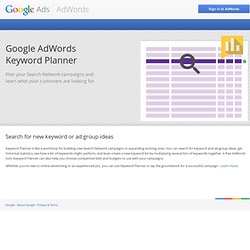 Uncovering the Keywords You're Missing Out On
At the upper right of the screen ( to the right of the secrets box ) is a link titled "engines". Once clicked, the Engine Selector will open, a mini-diagram of Soovle is at the top and a collection of search engine options is below. To change your Soovle engines - Drag any engine icon onto a position in the mini-diagram of Soovle. Your Soovle page will immediately reflect your changes.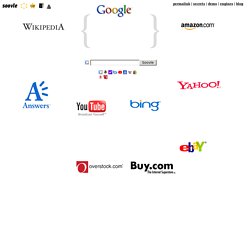 Five Questions to Streamline Your Keyword Research
It's time for the first meeting with the customer. You may be a seasoned search marketer, but you're still a little nervous. How do you achieve that perfect balance of getting the information you need while still exuding an aura of consummate professionalism, knowledge, and generally make yourself seem like the search Dalai Lama?
Keywords are important. I've heard from several potential clients recently who have talked to other "professionals" who told them keywords are no longer important for SEO, and that good content is all you really need. Here's the thing. Keywords are language.
Keyword Research Tool Review: Google AdWords
Keyword research is a critical component to a solid and rounded SEO strategy. When you break it down, you need to know what people are searching for in order to target the right terms. Keyword research fuels your content generation strategy. I use a wide range of tools when conducting keyword research and each has its own purpose.
It's Official: Google Wonder Wheel is Back, and It's Called the Contextual Targeting Tool [Tutorial]
The 3-Step Process to Creating an Effective and Profitable Keyword Plan
Keyword Research - Using Categories to Make Your Process More Actionable
The author's posts are entirely his or her own (excluding the unlikely event of hypnosis) and may not always reflect the views of Moz. One of the earliest and arguably most important parts of the SEO process is keyword research. Keyword research helps you answer that all important question, "In what quantities do people use search engines to find the products and services on my website?". Your research process will ultimately govern the method you use to structure your website, inspire your content strategy and kick start your link building campaigns. So, it's a bit of a shame that some SEO's don't like doing keyword research. It's data intensive, requires some heavy lifting with Excel, and, let's be honest, at times feels a bit like guess work.
Keyword Intelligence by author Ron Jones: Book Review
In my search for a new book to read on keywords I went straight to the source, Lee Odden's office library. Right away I noticed Ron Jones' new book "Keyword Intelligence" while standing in front of a bookcase full of titles to choose from. What I appreciate about Jones' book is that whether you are a search marketing guru or you work in another marketing/communications field, it paints things in a light that you may not have thought about before. Besides a deep dive into keyword research and it's overall impact on SEO, social media and content marketing, there is a little something in this book for everyone ranging from simple explanations of social networking sites to more detailed information on site migration and architecture.
How to do Keyword Research: Search Engine Academy Free SEO Webinar on Vimeo
Mapping Keywords to Content for Maximum Impact - Whiteboard Friday
The Cat in The Hat Teaches SEO
Keyword Density Tool
How To Take Your Keyword Research To A Higher Level