Parent iPad Info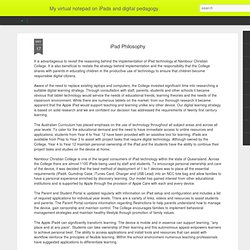 iPad Philosophy
It is advantageous to revisit the reasoning behind the implementation of iPad technology at Nambour Christian College. It is also beneficial to restate the strategy behind implementation and the responsibility that the College shares with parents in educating children in the productive use of technology to ensure that children become responsible digital citizens. Aware of the need to replace existing laptops and computers, the College invested significant time into researching a suitable digital learning strategy. Through consultation with staff, parents, students and other schools it became obvious that tablet technology would service the needs of educational trends, learning theories and the needs of the classroom environment. While there are numerous tablets on the market, from our thorough research it became apparent that the Apple iPad would support teaching and learning unlike any other device.
It is inevitable that today's students are going to use Internet search engines from time to time to as part of assigned school work. But the Internet is not without its share of safety issues and content that is inappropriate for younger students. Fortunately, there are plenty of good kid-focused search tools available, you only need to know where to find them (and now you do)! These search environments are safer and more appropriate for kids than the traditional adult search engines. KidzSearch KidzSearch is an exclusive search engine designed for your.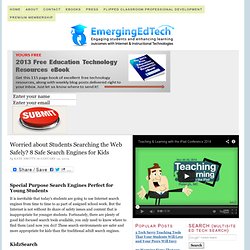 8 Safe Search Engines and Tools for Kids
iPadTipsForParents.pdf
Kid-Tested, Parent-Approved App Guide for Kids - Imagination Soup Imagination Soup Fun Learning and Play Activities for Kids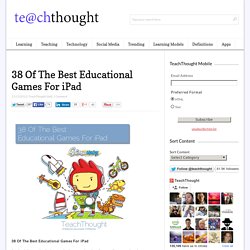 38 Of The Best Educational Games For iPad Academic instruction is characterized, more or less, by a focus on literacy and math. School is a time in a students life where they are learning as much about how to be students and operate successfully in a school as they are about how to read, write, and think. But oftentimes, the demand for pure academic instruction and practice can fly in the face for a student's need–at any age–to play, build, interact, explore, and construct their own learning experience. Issues like these can make mobile technology like tablets a boon to learning, as they can allow individual access to the right app–and the right content, creative opportunity, game, or learning simulation–at the right time.
38 Of The Best Educational Games For iPad
The first iPad was released in April 2010. Three years later, a Pew Internet survey found that half of American parents with children at home own a tablet computer. Mosey on over to the iTunes app store, and 9 of the top 10 paid education apps are designed for small children, ages four and up.
Toddlers and Tablets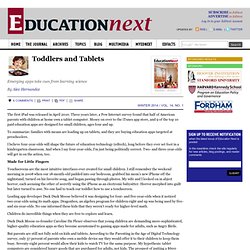 5 iOS Settings to Limit Your Child's Mobile Usage
Apple's many mobile devices were designed to be toys for adults, but are now slowly making their ways into the hands of kids. Small children who just want to play fun apps on iPods grow into pre-teens with iPhones who have unlimited access to apps and web content. But nervous parents, have no fear. Apple set up restrictions in iOS that let parents control what their kids have access to on their personal and shared-family devices. These parental controls allow kids to continue to use their Apple products, without their parents' worry and constant vigilance. Some of the controls are even set for different age levels, so parents don't have to treat their teens like toddlers.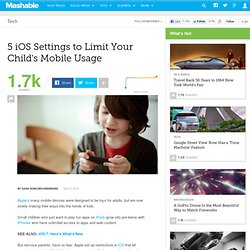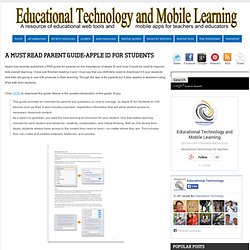 A Must Read Parent Guide-Apple ID for Students
Apple has recently published a PDF guide for parents on the importance of Apple ID and how it could be used to improve kids overall learning. I have just finished reading it and I must say that you definitely need to download it if your students and kids are going to use iOS products in their learning. Though the app is for parents but it also applies to teachers using iPad with their students. Click HERE to download the guide. Below is the quoted introduction of this guide. Enjoy
Disconnect Kids - A Unique App to Protect your Kids Privacy and Prevent Unwanted Ads!
How to Use Restrictions as Parental Controls on an iPhone, iPad, and iPod Touch
If you plan on giving an iPhone, iPad, or iPod touch to a child, take a moment to set up some very basic parental controls on the device by using the Restrictions feature of iOS. It only takes a minute to configure, and this will prevent the access of inappropriate content, avoid mature themed media, prevent in-app purchases and incidental charges, disable the ability to download and install new apps, plus prevent the removal of apps that have already been installed on the device. Prevent Installing & Deleting Apps, In-App Purchases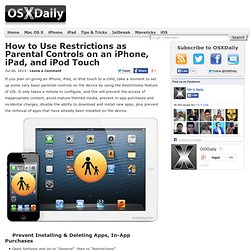 Younger Kids are Embracing Technology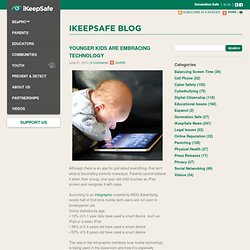 Although there is an app for just about everything, that isn't what is fascinating parents nowadays. Parents cannot believe it when their young, one-year-old child touches an iPad screen and navigates it with ease. According to an infographic created by MDG Advertising, nearly half of first-time mobile tech users are not even in kindergarten yet. Some statistics by age: • 10% of 0-1 year olds have used a smart device, such an iPad or a video iPod • 39% of 2-4 years old have used a smart device • 52% of 5-8 years old have used a smart device The rest of the infographic mentions how mobile technology is being used in the classroom and how it is especially revolutionizing special-needs education.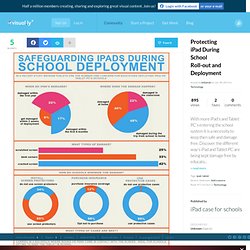 Protecting iPad During School Roll-out and Deployment
Thank you for subscribing. We sent an email, please click the link to complete your subscription. Tell your story visually before December 31st and get a free iPad Air!
Children often have no comprehension of how good grades and a positive overall experience in public education can improve their lives for the better. This is why we as parents should do everything we possibly can to help make sure our kids enjoy school and get the best grades possible. Typically, kids that do well in the early years continue to confidently do well in school as they get older. The biggest issues with children doing poorly in school usually develop in the earliest years of school, typically grades K-3. Parents who have successfully helped their kids to do better in school often have a number of different strategies in common.
5 Proven Ways Students Can Learn Better
What Students And Parents Think About Mobile Technology
TECH R US - Technology Development Stages for Kids
Enable "Kid Mode" on iPad, iPhone, or iPod touch with Guided Access in iOS
The iPad, iPod touch, and iPhone make excellent toys and learning tools for kids, but if you've seen a youngin' with an iOS device you know it's only a matter of time before the inquisitive mind of a child escapes the current application and ends up elsewhere. That inevitable sequence can be stopped in its tracks thanks to Guided Access, a great new feature brought to iOS in 6.0 that basically functions as "Kid Mode", whereby any iOS device can be locked into an application with the hardware buttons disabled. This is one of those must-have features for teachers and parents, and using it is easy. Enabling "Kid Mode" in iOS with Guided Access
Most of the time I focus on integration tips and examples for teachers. Today, I decided to change the pace and share some management tips for the device at home. With a 1:1 iPad initiative in full swing, setting boundaries with the iPad at home can become an issue. To support our Eanes parents, we developed a Digital Learning Parent seminar series. Wifi Password Fridge created with Word Mover iPad app
iPad Tips 4 Parents
The 30 Best Educational Games for the iPad: Kid's Edition
OnlineCollegeCourses have put together this great list of their pick of the 30 best educational iPad games for kids. Parents and teachers who trust little Muffy and Junior with their shiny iPads don't have to worry about how access to shoot-'em-up video games will rot their precious little gifted and talented program minds. Instead, they can download some of the following alternatives to help them build up their brilliant brains that will totally go on to win Nobel Prizes someday.
Pincer Grasp on iPad – Ideas from Your Therapy Source
5 Dependable iPhone and iPad Apps That Filter Content for Kids
Parent's Guide to Educational iPad Games
Parent Engagement in Education: Resource Roundup
Learning Ratings
Get Your Children in Shape with These Top Fitness and Nutrition Apps for Kids
5 Ways to Integrate Technology Into Your Child's Education
With Media, Parents and Kids Learn More Together
Best Toddler Apps
Maily on the iPad - Your Child's First Email Account
Parenting By iPad: What Are The Rules
Giving An iPad To Your Youngster? Watch This Video First
Four Apps that Help Kids Love to Learn!
A Parent's Guide to Educational iPad Games
Find The Best iOS And Android Apps For Your Children With The Help Of These 3 Websites
The 10 Types of Educational Apps and When To Use Them – Kindertown
Happly For iPad Helps Curious Kids Discover The Web…Safely
ipad apps in education
Parent-Friendly Websites to Help Improve Child Learning at Home
The Parents Zone at Internet4Classrooms
Books and Reading | Parents
Tips for Talking about Technology (Part 1) | MOD for Schools
Cybersafety Information for parents
Parenting Tips for the Digital Age
What Every Parent Should Know About Computers and the Internet
How to Disable Internet Access and App Downloads on iPhone & iPad
6 Rules for Younger Kids and the Internet