Literature
AfricanWriter.com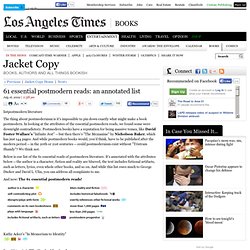 The thing about postmodernism is it's impossible to pin down exactly what might make a book postmodern. In looking at the attributes of the essential postmodern reads, we found some were downright contradictory. Postmodern books have a reputation for being massive tomes, like David Foster Wallace's "Infinite Jest" -- but then there's "The Mezzanine" by Nicholson Baker, which has just 144 pages. And while postmodern books would, you'd think, have to be published after the modern period -- in the 20th or 21st centuries -- could postmodernism exist without "Tristram Shandy"?
61 essential postmodern reads: an annotated list | Jacket Copy | Los Angeles Times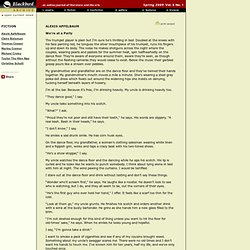 We're at a Party The trumpet player is plain but I'm sure he's thrilling in bed. Doubled at the knees with his face panting red, he tongues the silver mouthpiece of his trumpet, runs his fingers up and down its body.
We're at a Party - Alexis Apfelbaum
Great Ideas Series Three
Chuang Tzu examines the nature of existence in these dialogues and essays, from the battle to grasp the purpose of life to the search for knowledge. A collection of some of the most absorbing and charming philosophy ever written, THE TAO OF NATURE is also about perfection, perception, the value of skills and the truth revealed by complete understanding. In this personal and practical guide to moral self-improvement and living a good life, the second-century philosopher Epictetus tackles questions of freedom and imprisonment, stubbornness and fear, family, friendship and love, and leaves an intriguing document of daily life in the classical world. Machiavelli is one of the most famous strategists of all time. In this collection he discusses the dangers of conspiracies, and the component parts of an army, vital for gaining and holding power in his day. He also gives advice on tactics and discipline, and explains why promises made under force ought not to be kept.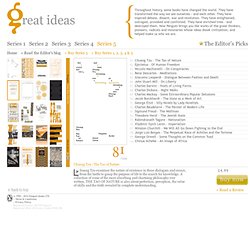 Soft Skull: Home
Winton Steps Down As Publisher Charlie Winton, Counterpoint Chairman, CEO and Publisher, announced today that he will step down as Publisher of the company. Congrats, Isaac Adamson! Soft Skull Press couldn't be more stoked to announce that Complication by our own Isaac Adamson is a nominee for the 2013 Edgar® Awards in Best Paperback Original (you may have heard). Probs the BEST book trailer you̵... Fight Song by Joshua Mohr is out next month and we couldn't be more excited!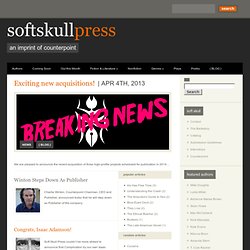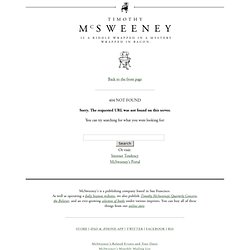 McSweeney's Internet Tendency: Underground America: Narratives of Undocumented Lives.
Download our app and get Internet Tendency optimized for your device,plus much more!(hide this message) is a riddle wrapped in a mystery wrapped in bacon. Back to the front page Sorry. The requested URL was not found on this server.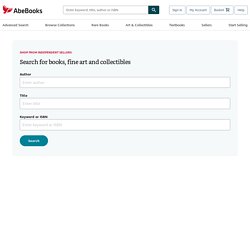 AbeBooks Official Site - New & Used Books, New & Used Textbooks, Rare & Out of Print Books
William Faulkner died in 1962 but his writing continues to have a huge impact on modern literature. As I Lay Dying and The Sound and the Fury are considered to be two of the 20th century's finest novels. Explore all his novels and five selected biographies of this iconic writer. ›Learn more Browse for Books
30 Novels Worth Buying For the Cover Alone
Selected by the Guardian's Review team and a panel of expert judges, this list includes only novels – no memoirs, no short stories, no long poems – from any decade and in any language. Originally published in thematic supplements – love, crime, comedy, family and self, state of the nation, science fiction and fantasy, war and travel – they appear here for the first time in a single list. Feel we've left off a crucial book?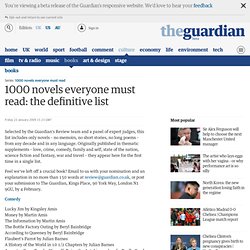 1000 novels everyone must read: the definitive list | Books
1. "I urge you to please notice when you are happy, and exclaim or murmur or think at some point, 'If this isn't nice, I don't know what is.'"The actual advice here is technically a quote from Kurt Vonnegut's "good uncle" Alex, but Vonnegut was nice enough to pass it on at speeches and in A Man Without A Country. Though he was sometimes derided as too gloomy and cynical, Vonnegut's most resonant messages have always been hopeful in the face of almost-certain doom.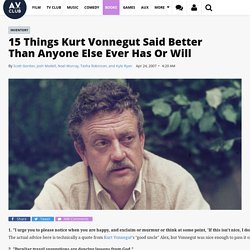 15 Things Kurt Vonnegut Said Better Than Anyone Else Ever Has Or Will | Music | A.V. Club
1000 novels everyone must read | Books
100 Notable Books of 2008
Apathy and Paying Rent
The Times: Ten things you need to know about Haruki Murakami
Browse > Home / Archive by category 'Book Store Events' Jennifer McMahon, the author of six novels, including the New York Times bestsellers Island of Lost Girls and Promise Not to Tell, reads from and discusses her new novel The Winter People. West Hall, Vermont, has always been a town of strange disappearances and old legends. The most mysterious is that of Sara Harrison Shea, who, in 1908, was found dead in the field behind her house just months after the tragic death of her daughter, Gertie. In this simmering literary thriller, McMahon explores ghostly secrets, dark choices, and the unbreakable bond between mothers and daughters…sometimes too unbreakable.
Authors On Tour - Live! » Previous Podcasts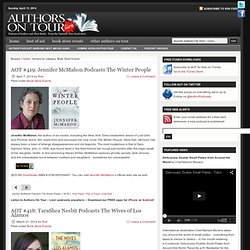 Feministe Feedback: Feminist/LGBT Book Recommendations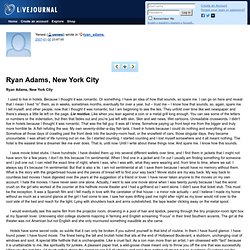 Ryan Adams, New York City I used to live in hotels. Because I thought it was romantic. Or something. I have an idea of how that sounds, so spare me. I can go on here and reveal that I mean I lived "in" them, as in weeks, sometimes months, eventually for over a year, but – trust me – I know how that sounds, so, again, spare me.
ryan_adams: An essay by Ryan Adams I will always love, and wanted to share...
Rubber Souls - Norwegian Wood review
exorcising ghosts - Haruki Murakami Resources
news Friday 7th March 2014 - Colorless Tsukuru Tazaki and His Years of Pilgrimage Covers . US and UK covers for Colorless Tsukuru Tazaki and His Years of Pilgrimage by Haruki Murakami: Thursday 20th February 2014 - Colorless Tsukuru Tazaki and His Years of Pilgrimage will be published in English in the UK and US in August. Haruki Murakami's UK publisher has announced that the Japanese author's latest novel, which is currently topping charts in Germany, Spain and Holland, will be released in August in the UK. Harvill Secker said that Colorless Tsukuru Tazaki and His Years of Pilgrimage would be published in English on 12 August, in a translation from Philip Gabriel.
Art Garfunkel - Official Website