Recipes
Kitchen Hack: One-Minute Bread. Oven-fresh bread is one of life's simple joys.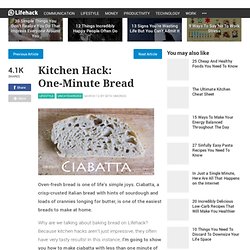 Ciabatta, a crisp-crusted Italian bread with hints of sourdough and loads of crannies longing for butter, is one of the easiest breads to make at home. Why are we talking about baking bread on Lifehack? Homemade Potato Chips Recipe. [donotprint]A few years ago a friend of mine taught me how to make potato chips in a microwave.
I thought she was kidding because I couldn't imagine a microwave producing crispy chips. After cooking them for 5 minutes they were done, crispy, and wonderful! Easy Brazilian Cheese Bread (Pão de Queijo) Recipe. Our tour of Brazil continues.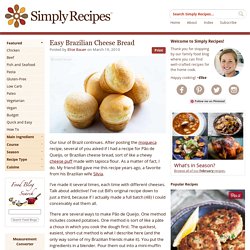 After posting the moqueca recipe, several of you asked if I had a recipe for Pão de Queijo, or Brazilian cheese bread, sort of like a chewy cheese puff made with tapioca flour. As a matter of fact, I do. My friend Bill gave me this recipe years ago, a favorite from his Brazilian wife Silvia. I've made it several times, each time with different cheeses. Aguas Frescas. Can I pleeeeeeeeeease meet the man or woman who invented Agua Fresca?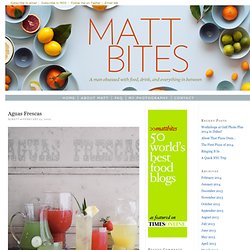 I've got a hug, a kiss, a handshake and a future newborn that I'd like to name after them. I'm serious. Ok, so perhaps I'll never meet the person who decided to add fresh chunks of fruit to water and ice. I realize this drink has been made for generations, served in restaurants and on the streets throughout Mexico. Pie | Joe Pastry. I have to admit, these Melton Mowbray-style pork pies aren't just something you throw together, but for the serious pork pie enthusiast they are well worth the time and effort.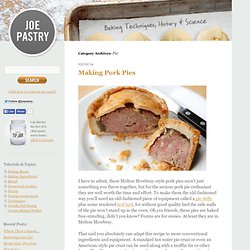 To make them the old-fashioned way you'll need an old-fashioned piece of equipment called a pie dolly plus some rendered leaf lard, for without good quality lard the side walls of the pie won't stand up in the oven. Oh yes friends, these pies are baked free-standing, didn't you know? Forms are for sissies. Mozilla Firefox.
---
mindshare2000 May 19 2011

good initial choices. keep adding!
---