Case Studies / Applications
J Sainsbury plc / Sainsbury's backs new business to fuel green power. Retailer invests in Tamar Energy Limited to build 100MW of organic waste-fuelled green power capacity.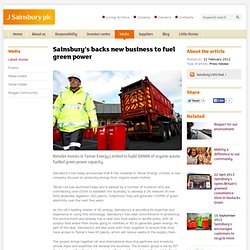 Sainsbury's has today announced that it has invested in Tamar Energy Limited, a new company focused on producing energy from organic waste matter. Tamar Ltd was launched today and is backed by a number of investors who are contributing over £65m to establish the business, to develop a UK network of over forty anaerobic digestion (AD) plants. CIWM Sainsburys Becomes Largest Retail User Of Anaerobic Digestion. 31 October 2011 Sainsbury's has become the UK's largest anaerobic digestion (AD) retailer after signing a groundbreaking deal with Biffa.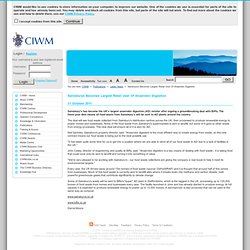 The three-year deal means all food waste from Sainsbury's will be sent to AD plants around the country The deal will see food waste collected from Sainsbury's distribution centres across the UK, then processed to produce renewable energy to power homes and businesses. None of the food waste from Sainsbury's supermarkets is sent to landfill, but some of it goes to other waste from energy processes. This new deal will ensure all of it is sent for AD. Welcome to the Waste Producer Exchange | Waste Producer Exchange. Waste Map | Let's do it! World. Recyclebank. Www.unitypartnership.com/gmwda_waste_monitoring.pdf.
Harrow Council. Case Study: Windows Azure - London Borough of Lewisham, LoveCleanStreets. LoveCleanStreets is an award winning online tool—developed by the London Borough of Lewisham—that gives citizens power to improve their environment.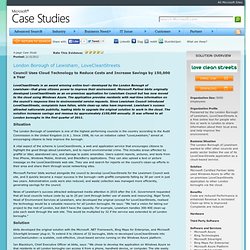 Microsoft Partner bbits originally developed LoveCleanStreets as an on-premises application for Lewisham Council but has now moved to the cloud using Windows Azure. The application provides residents with real-time information on the council's response time to environmental service requests. Sustainable Waste Management Solutions Just Got a Big Kick from Elephant's Foot. Sustainable Waste Management Solutions Just Got a Big Kick from Elephant's Foot Designing sustainable waste management solutions is the core business of Elephant's Foot Recycling Systems.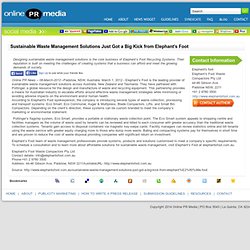 Their reputation is built on meeting the challenges of creating systems that a business can afford and meet the growing demands of society. Online PR News – 08-March-2012 –Padstow, NSW, Australia: March 1, 2012 - Elephant's Foot is the leading provider of sustainable waste management solutions across Australia, New Zealand and Tasmania. They have partnered with Pottinger, a global resource for the design and manufacture of waste and recycling equipment.
Community - NLWA. Home. DataKind. Portal 1746. Trashed Film | Environmental Documentary Feature Film | Cannes Film Festival | Blenheim Films with Jeremy Irons. Lean Six Sigma and Analytics - Online Public Services. Efficient program management enabled Accenture to keep Rio's implementation on track and on time.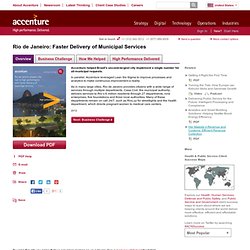 All of the city's major departments, representing about 85 percent of the scope of the program, are now linked to 1746. "Not only is our 1746 call center simplifying the way people contact us," Mayor Eduardo Paes explains. "Our process-optimization strategies are helping to respond more effectively and faster. In addition, since 85 percent of requests for service are tracked through our unified channel, the Chief Secretary and I can see what the citizens need in each region of our city." Helps 1746 in Rio de Janeiro Celebrate Successful First Year. Accenture Helps 1746 in Rio de Janeiro Celebrate Successful First Year Central telephone number improves efficiency, connects citizens to municipal services RIO DE JANEIRO; June 1 – The citywide call center 1-RIO that serves as a single point of contact, making it easier for 6 million citizens to report problems or request more than 700 different municipal services, successfully completed its first year of service.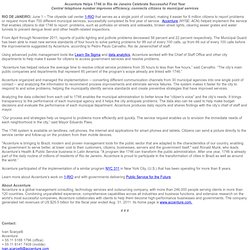 Accenture (NYSE: ACN) helped implement the service that enables citizens to dial 1746 to report problems, such as potholes on streets and sidewalks, broken street lights, clearing sewer grates and water tunnels to prevent dengue fever and other health-related inspections. From April through November 2011, reports of public lighting and pothole problems decreased 56 percent and 22 percent respectively. RecycleBank | The Royal Borough of Windsor and Maidenhead. Recyclebank. SUPER ARTICLE! Tagged with intelligence: Applying IT in household waste collection. Opti'System® - Bin Collection Optimisation. The Opti'System® is an innovative product, which measures the filling level of an existing drop-off bank or underground container, and informs the collection company and / or local authority of the needs of a collection, remotely.
Each bank or container has its own SIM card and calling number, like a mobile phone. The measure message is sent via SMS. The operator can choose a target in cm, above which the bank or container needs to be collected. Advancing_technologies_ciwm_dec_06. Intelligent Bins » NowRecycle Blog. A global world leader in waste containment - Plastic Omnium - believes technology is the key to raising recycling rates. head of marketing of Northern Europe, Simon Dutta explains why.
The future of world residential municipal solid waste (MSW) is changing. Globally, environmental pressures are mounting and especially on those 166 countries who signed-up to the 1997 Kyoto Protocol of the United Nations Framework Convention on Climate Change. The international treaty assigns mandatory targets for the reduction of greenhouse gas emissions to signatory nations. Waste Security through lack of accurate tracking/auditing. RFID Bin Tracking Improves Customer Service in Sunnyvale. City of Medicine Hat : Contact Us. EpiCollect.net. Ushahidi - Support for Emergencies. Citizen election reporting in Kenya was a breakthrough in online-offline collaboration The Kenyan elections were more than a month ago, but a debate continues in the crisis mapping community about whether the various technologies deployed to track...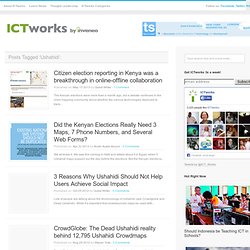 Did the Kenyan Elections Really Need 3 Maps, 7 Phone Numbers, and Several Web Forms? Balkan E-Waste Management Advocacy Network. Forage Tracking. In the absence of a pervasive formal recycling system, Brazil has a long history of informal recycling cooperatives, whose members try to make a living by collecting recyclable material in the city and sell it in bulk to industry.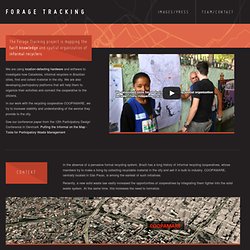 COOPAMARE, centrally located in São Paulo, is among the earliest of such initiatives. Recently, a new solid waste law vastly increased the opportunities of cooperatives by integrating them tighter into the solid waste system.
---