Food
A Station-by-Station Guide to Becoming a Kitchen Pro
You don't have to be a master chef to wield a knife like a pro, or an engineer to get the most out of your kitchen appliances. You may know the way around a kitchen, but there's nothing to stop you from taking it to the next level. Here are a few simple ways you can make better use the things you already have in your kitchen, from your knives and cutting boards to your dishwasher. There are a few things that everyone has in every kitchen, whether it's galley-style in a studio apartment or a custom design job in your new home. Most of us have a refrigerator with a freezer, an oven, and if you're lucky, a dishwasher. Regardless of what's for dinner, you'll probably use a knife and cutting board daily, if only for serving.
Love cooking or hate it, much of your time in the kitchen is likely wasted by easily correctable mistakes you probably don't even know you're making. You waste time prepping ingredients, use your knives incorrectly, mix and match the wrong utensils, and throw out food that's still good—and those are just a few of the stupid things you do in the kitchen. Here's how to fix them. Stupid Thing #1: You Spend Too Much Time Prepping Ingredients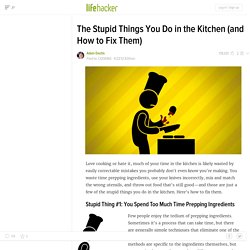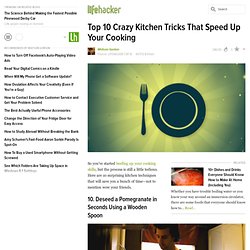 So you've started beefing up your cooking skills , but the process is still a little tedious. Here are 10 surprising kitchen techniques that will save you a bunch of time—not to mention wow your friends. 10. Deseed a Pomegranate in Seconds Using a Wooden Spoon If you don't love pomegranates, it's either because you've never had one or you hate how much work they take to deseed.
Kitchen gear News, Videos, Reviews and Gossip - Lifehacker
You should eat salmon before a test, berries to prevent Alzheimer's, or a vitamin supplement to increase your memory. You've heard the term "brain foods" since you were a kid, but how much do you really know about them? More importantly, is there really a way to boost your brain power just be eating a certain type of diet? We talked with two experts to unravel the myths and unpack the facts about how much food can really impact your brain. Just as your stomach, muscles, and heart feed on the nutrients that food supplies, so does the brain. The brain controls almost everything we do and when it takes in chemicals it can have an effect on how it works, both positively and negatively.
What 'Brain Food' Actually Does for Your Brain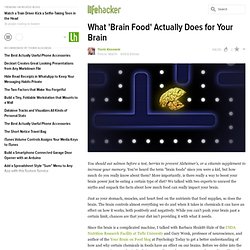 Budget Kitchen Upgrades for Every Kitchen that Will Change the Way You Cook (and Eat!)
Cooking is much more fun when you have all the right gear to make your food dreams into food reality. If you have a contentious relationship with your kitchen, the problem may have to do with things like dull knives or the wrong tools, requiring you to undertake boring, repetitive tasks to make the simplest things. We teamed up with a group of chefs to come up with a list of gear for your kitchen that will transform the way you cook—and eat—without breaking the bank. I love to cook, and I think part of the fun for me is having the toys in my kitchen to play with when a recipe strikes my fancy or I get a crazy idea.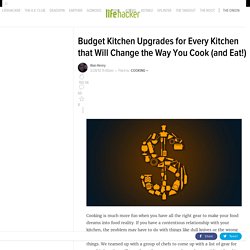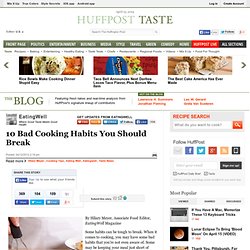 EatingWell: 10 Bad Cooking Habits You Should Break
By Hilary Meyer, Associate Food Editor, EatingWell Magazine Some habits can be tough to break. When it comes to cooking, you may have some bad habits that you're not even aware of.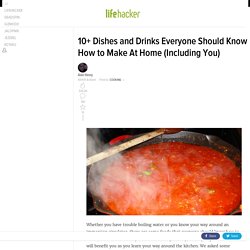 Whether you have trouble boiling water or you know your way around an immersion circulator, there are some foods that everyone should know how to make, either because they're delicious, they're easy, or they require skills that will benefit you as you learn your way around the kitchen. We asked some professional chefs (and the Lifehacker team) what you should be able to make, no matter who you are, and how. Photo by Buck . Chef Anthony Thomas - Roasted Garlic and Spaghetti Sauce
Eating your lunch by yourself can get a little boring. There's no conversation to distract you from the fact that each bite of your sandwich or each sip of your soup tastes pretty much the same, bite after bite, slurp after slurp. Unless, of course, you do what I do when I eat solo: create lots and lots of variety.
Tips for a Better Solo Lunch Cooking for One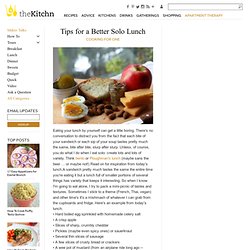 How to Order Wine at a Restaurant Without Looking Clueless
Wine is often perceived as a stuffy, fussy thing, but it doesn't have to be. Sure, different flavors may go better with different foods, but in the end everyone's palate is different, and there's no reason you need to be a sommelier -in-training to order a decent wine with your meal. It's easier than you think, and we sat down with a wine expert and educator to come up with some tricks you can take with you to the restaurant. Ordering a bottle of wine at a restaurant can be a tricky affair, especially if you're on a date or you're ordering with a group of people and they all turn to you for advice.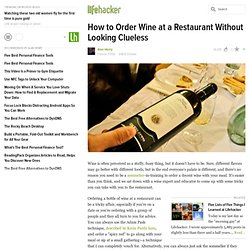 I used to walk the freezer aisle in envy of all of those perfectly engineered frozen burritos. How did they managed to get everything in there in so it doesn't overcook when reheated? And sealed in with just a thin plastic wrapper?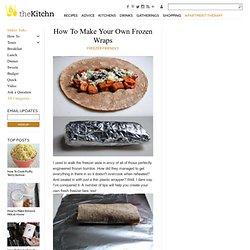 How To Make Your Own Frozen Wraps Freezer Friendly