EVOLUTION
Social Network Sites: Definition, History, and Scholarship. The History and Evolution of Social Media. Social media has become an integral part of modern society.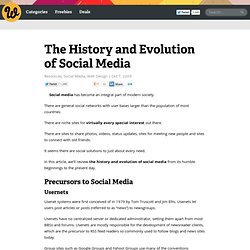 There are general social networks with user bases larger than the population of most countries. There are niche sites for virtually every special interest out there. There are sites to share photos, videos, status updates, sites for meeting new people and sites to connect with old friends. The Evolution of Social Media. Today, it's difficult to imagine life without social media.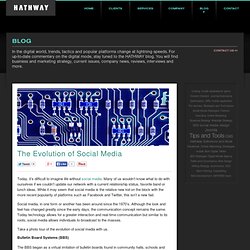 Many of us wouldn't know what to do with ourselves if we couldn't update our network with a current relationship status, favorite band or lunch ideas. While it may seem that social media is the relative new kid on the block with the more recent popularity of platforms such as Facebook and Twitter, this isn't a new fad. Nov 23, 2007 - China Leads the US in Digital Self-Expression. Social Networking (The Shorter Version): Past, Present, Future. This blog post originally appeared in serialized form here on TechCrunch.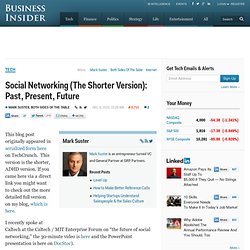 This version is the shorter, ADHD version. If you came here via a direct link you might want to check out the more detailed full version on my blog, which is here. I recently spoke at Caltech at the Caltech / MIT Enterprise Forum on "the future of social networking," the 30-minute video is here and the PowerPoint presentation is here on DocStoc).
What I want to answer with this post (long though it may be) is: Why did Web 2.0 emerge and are there any lessons to be gained about the future? China IWOM Blog- Making Sense of the Buzz | seeisee | CIC - Mogujie.com launched a new online product, " Free Group Purchase ", at 5 p.m. on the 1st of March, encouraging users to initiate a group purchase on any product they want.
This "C2B" group purchase would be achievedas long as they round up enough participants. So far, more than 15,000 group purchases have been started, 100 of which have been successful. Social platform meishixing.com has at last launched a web version.
---