Appitizer
Chicken Tortilla Soup IV Recipe. A Two Bite Breakfast: Bacon & Eggs in Toast Cups. * Updated post from archive: Originally posted March 29, 2009 If you where to ask me what is my favorite meal of the day without a thought my response would be breakfast!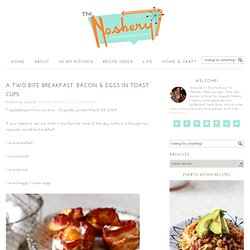 I love breakfast! I love brunch! I love bacon! I love breggs! Pepperoni Pizza Puffs. If I ask my kids what they want for dinner, there's a ninety percent chance they will say pizza.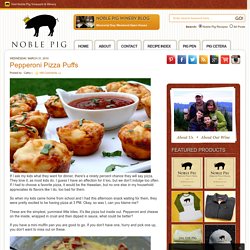 They love it, as most kids do. I guess I have an affection for it too, but we don't indulge too often. If I had to choose a favorite pizza, it would be the Hawaiian, but no one else in my household appreciates its flavors like I do, too bad for them. Buttered Rosemary Rolls. I had some rolls like these in a restaurant once.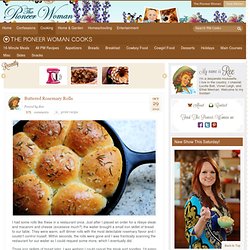 Just after I placed an order for a ribeye steak and macaroni and cheese (excessive much?) The waiter brought a small iron skillet of bread to our table. Mozzarella Sticks. When I told my friends I was planning on making homemade mozzarella sticks for a guy's weekend out of town the idea was met with a profound lack of enthusiasm.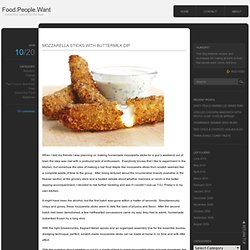 Everybody knows that I like to experiment in the kitchen, but somehow the idea of making a bar food staple like mozzarella sticks from scratch seemed like a complete waste of time to the group. After being lectured about the innumerable brands available in the freezer section at the grocery store and a heated debate about whether marinara or ranch is the better dipping accompaniment, I decided to risk further heckling and see if I couldn't one-up T.G.I.
Party Food! Pizza in a Bite. October 20th, 2008 by katie Getting together to watch a game?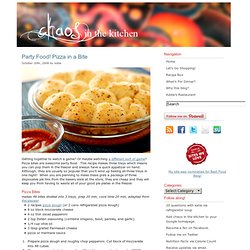 Or maybe watching a different sort of game? Recipe for Cheesy Roasted Garlic Potato Balls at Life. I think I have discovered the ultimate way to use up leftover mashed potatoes and the perfect appetizer for New Year's Eve cocktail parties.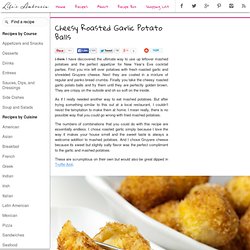 First you mix left over potatoes with fresh roasted garlic and shredded Gruyere cheese. Next they are coated in a mixture of regular and panko bread crumbs. Finally you take the cheesy roasted garlic potato balls and fry them until they are perfectly golden brown. They are crispy on the outside and oh so soft on the inside. Toasted Ravioli. Cheesy Garlic Sticks. All righty.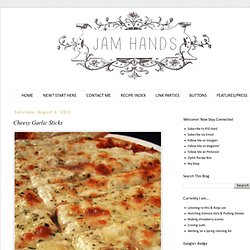 Cheesy Garlic Sticks. I make them all the time. They are delicious, they only take a handful of ingredients, and often they are filling enough to make a meal out of on the cheap. I've tried a bunch of little tweaks to come up with what I think is the most delicious recipe for Cheesy Garlic Sticks. Pepperoni Pizza Muffins Recipe. When I'm online looking for dinner inspiration, I often search for recipes that take something my family loves and make it into something new.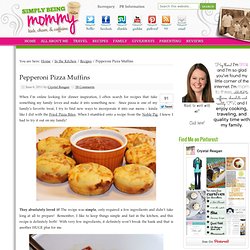 Since pizza is one of my family's favorite treat, I try to find new ways to incorporate it into our menu – kinda like I did with the Fried Pizza Bites. When I stumbled onto a recipe from the Noble Pig, I knew I had to try it out on my family! They absolutely loved it! The recipe was simple, only required a few ingredients and didn't take long at all to prepare! Bacon Garlic Bread Sticks : : Miss in the Kitchen. Bacon Garlic Bread Sticks The weather has turned down right nasty again and I can't help but want to get in the kitchen and cook.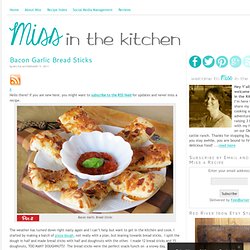 I started by making a batch of pizza dough, not really with a plan, but leaning towards bread sticks. I split the dough in half and made bread sticks with half and doughnuts with the other. Loaded Potato Skins | Simple Comfort Food. Back when I was growing up in middle and high school, there was an appetizer that I really loved.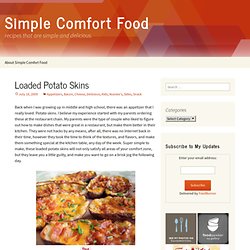 Potato skins. I believe my experience started with my parents ordering these at the restaurant chain. My parents were the type of couple who liked to figure out how to make dishes that were great in a restaurant, but make them better in their kitchen.
---