American
Dinner For Two: Chicken Fried Steak | Dessert For Two. Welcome to the new Dinner For Two series here on Dessert For Two!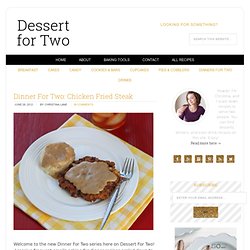 I receive frequent emails asking for dinner recipes scaled down to serve two people, and after mulling it over, I have decided to do it. My current plans are to share dinner recipes once a month. So, those of you that just come here for the butter-flour-sugar party won't be too disturbed. The dinner recipes will be my favorite Southern dinners. Quick Chicken and Gravy — Our Life In The Kitchen. It's been a busy week, one where quick and easy is the only hope of cooking dinner instead of doing takeout.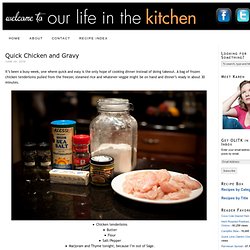 A bag of frozen chicken tenderloins pulled from the freezer, steamed rice and whatever veggie might be on hand and dinner's ready in about 30 minutes. Chicken tenderloinsButterFlourSalt/PepperMarjoram and Thyme tonight, because I'm out of Sage.Chicken Broth Melt enough butter to generously cover the bottom of a large saute pan. Cheeseburger Slider Steamed Buns. Did you know that true sliders are steamed and not grilled?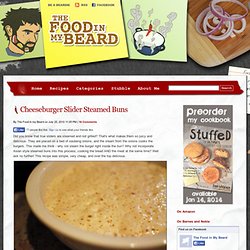 That's what makes them so juicy and delicious. They are placed on a bed of sauteing onions, and the steam from the onions cooks the burgers. This made me think - why not steam the burger right inside the bun? Why not incorporate Asian style steamed buns into this process, cooking the bread AND the meat at the same time? Well ask no further! Pizza Braid. Best Steak Marinade in Existence Recipe. Fried Dr Pepper Ribs | Spicy Recipes. Then one day, last Wednesday to be exact, I had dinner at this fantastic restaurant while traveling on business and lo and behold on the menu were Dr.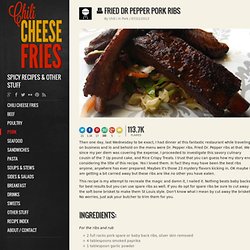 Pepper ribs. Fried Dr. How to Make a Hamburger. Mac and Cheese. Homemade Pork Buns! « I made that! Dear Pork, We meet again.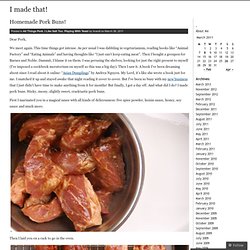 This time things got intense. As per usual I was dabbling in vegetarianism, reading books like "Animal Factory" and "Eating Animals" and having thoughts like "I just can't keep eating meat". Then I bought a groupon for Barnes and Noble. Buttermilk Fried Chicken. Crepes of Wrath. Stuffed Chicken Leg. How to Make Proper Barbecue Chicken. There's a lot of misconception when it comes to "barbecue.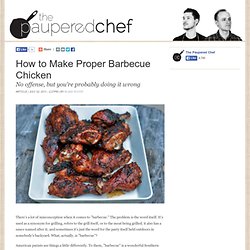 " The problem is the word itself. It's used as a synonym for grilling, refers to the grill itself, or to the meat being grilled; it also has a sauce named after it; and sometimes it's just the word for the party itself held outdoors in somebody's backyard. What, actually, is "barbecue"?
---