Knitting
MÜHLE – Shop
Pure shaving culture from the Erz Mountains: high-quality brushes and beautifully designed razors have made MÜHLE the world's leading brand over the last decades. The "silver-tip badger hair" brush is regarded as our classic product – refined, beautiful and crafted by hand. The brand combines traditional craftsmanship with pioneering design: Also for the handles of brushes and blades selected materials are used: woods, metals, synthetic resins, even carbon. Fragrant soaps and creams, as well as refined accessories, dishes, mirrors, razors and travel brushes complete the programme. Edwin Jagger England is the birthplace of the gentleman and the home of Edwin Jagger Ltd. Company boss Neil Jagger established his business in 1988 in the Sheffield region, famous for its traditional crafts and legendary chrome.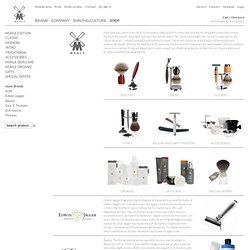 The Home of Mathematical Knitting
Also: Rachel's Cool Increase is a match for k2tog; two knit stitches flow out of one with no bumps. Carolyn Yackel and sarah-marie belcastro co-organized three mathematics conference sessions, each of which included a sequence of talks and a mathematical fiber arts exhibit. We have co-edited two books on mathematics and fiber arts written for crafters, mathematicians, and mathematics educators. New! 2014 AMS Special Session in Mathematics and Mathematics Education in Fiber Arts, to take place at the Joint Mathematics Meetings in Baltimore, MD, January 2014.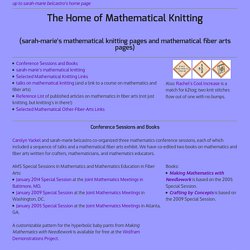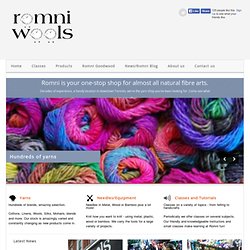 Romni is your one-stop shop for almost all natural fibre arts. Decades of experience, a handy location in downtown Toronto, we're the yarn shop you've been looking for. Come see what we have to offer!
Romni Wools Limited Home
PassionKnit
The Purple Purl - Cafe. Yarn. Friends
The Yarn Boutique Website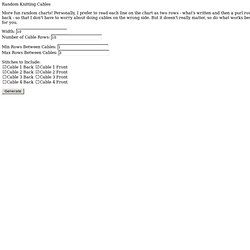 Random Knitting Cables
Random Knitting Cables More fun random charts! Personally, I prefer to read each line on the chart as two rows - what's written and then a purl row back - so that I don't have to worry about doing cables on the wrong side. But it doesn't really matter, so do what works best for you. Width: Number of Cable Rows: Min Rows Between Cables: Max Rows Between Cables:
Diamond Yarn: Canada's leading importer of premium knitting yarns
We carry full range of quality yarns, ranging from classic wool to luxurious cashmere, silk, alpaca, mohair, angora, novelty and metallic blends. Look also at our extensive selection of the knitting books, instructional guides, and even coffee-table books on knitting life style. All prices are shown in USD. We accept payments also in Euro and CAD converted by going exchange rates. For all orders from outside North America, please, contact us for the shipping rates.
unnamed pearl
The Needle Emporium in Ancaster Ontario
The Knit Cafe
Knitwitts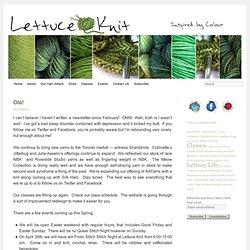 Ola! I can't believe I haven't written a newsletter since February! OMG! Well, truth is I wasn't well. I've got a bad sleep disorder combined with depression and it kicked my butt.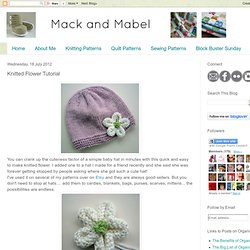 You can crank up the cuteness factor of a simple baby hat in minutes with this quick and easy to make knitted flower. I added one to a hat I made for a friend recently and she said she was forever getting stopped by people asking where she got such a cute hat! I've used it on several of my patterns over on Etsy and they are always good sellers. But you don't need to stop at hats.... add them to cardies, blankets, bags, purses, scarves, mittens... the possibilities are endless.
Mack and Mabel: Knitted Flower Tutorial
Yeah, sure......
Page 18 Elefante
The pattern for Elefante is finally here for the taking. This pattern came to be when a knitter emailed me after spying a tiny striped elephant on a shelf in Itty-Bitty Hats on page 18. She wanted to know where to get the pattern. I had no idea where that elephant came from until a friend (thanks Renee) told me about this .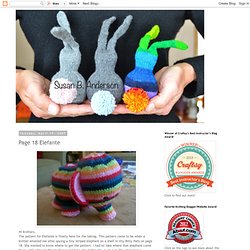 Wool Works: magazines for knitters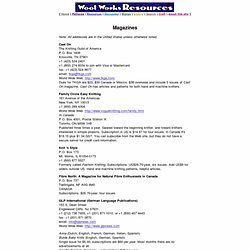 Note: All addresses are in the United States unless otherwise noted. Cast On The Knitting Guild of America P.O. Box 1606 Knoxville, TN 37901 +1 (423) 524 2401 +1 (800) 274 6034 to join with Visa or Mastercard fax: +1 (423) 524 8677 email: tkga@tkga.com World Wide Web: http://www.tkga.com/ Dues for TKGA are $23, $30 Canada or Mexico, $38 overseas and include 5 issues of Cast On magazine. Cast On has articles and patterns for both hand and machine knitters. Family Circle Easy Knitting 161 Avenue of the Americas New York, NY 10013 +1 (800) 289 4304 World Wide Web: http://www.vogueknitting.com/family.htmlIn Canada: P.O. Box 4001, Postal Station 'A' Toronto, ON M5W 1H9 Published three times a year.