Tutorials
Text overlay. We have accepted some tutorials from readers and we think it's really good to open the blog, so anyone can share their skills with the community.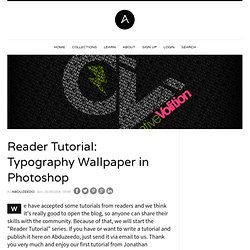 Because of that, we will start the "Reader Tutorial" series. If you have or want to write a tutorial and publish it here on Abduzeedo, just send it via email to us. Thank you very much and enjoy our first tutorial from Jonathan Connolly. CreativeFan. Holga Effect. Back in the days of analog photography imperfections were part of the job.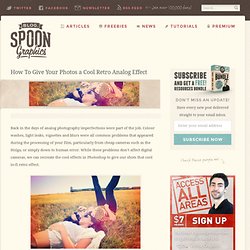 Colour washes, light leaks, vignettes and blurs were all common problems that appeared during the processing of your film, particularly from cheap cameras such as the Holga, or simply down to human error. While these problems don't affect digital cameras, we can recreate the cool effects in Photoshop to give our shots that cool lo-fi retro effect. View large scale photograph You don't have to look far before finding quality examples of old style analog photography. Characteristics include inaccurate colour washes of warm tones, dark vignettes surrounding the shots, blurred focus and light leaks where the film has been excessively exposed. 11 Photoshop Photo Effects.
Photoshop Tutorials. 50 Photoshop Actions. Photoshop Lighting Effects. Learn to draw. Picture to Words. I love Photoshop techniques that offer all kinds of possibilities for experimentation—and the following tutorial is a perfect example of one of those techniques.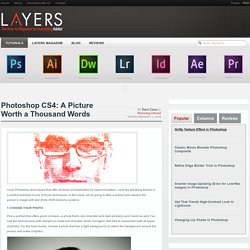 In this issue, we're going to take a portrait and replace the person's image with text (think 2009 Grammy posters). Pick a portrait that offers good contrast—a photo that's very dramatic and dark probably won't work as well. Typographic Portrait. Last year we posted on Abduzeedo a very cool post about typographic portraits, the 45 Amazing Type Faces - Typographic Portraits became one of the most popular posts on Abduzeedo, and a lot of people asked me how to create that effect in Photoshop.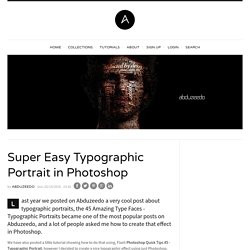 We have also posted a little tutorial showing how to do that using, Flash Photoshop Quick Tips #5 - Typographic Portrait, however I decided to create a nice typographic effect using just Photoshop. So in this tutorial I will show you how to create a really cool and super easy typographic portrait in Photoshop. We will use the Displace filter and some Blend Modes to achieve the effect. The whole process is quite simple but it might take you some time to add the texts and elements, but once you do that the rest is very straight forward. Step 1. Photo Effects. List of Photoshop Tutorial / Tip / Lecture sites.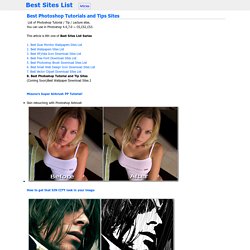 You can use in Photoshop 4.0,7.0 ~ CS,CS2,CS3. This article is 8th one of Best Sites List Series1.
---