Web design examples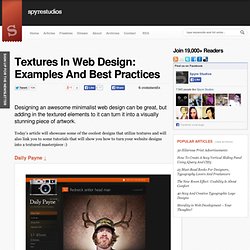 Textures In Web Design: Examples And Best Practices
Designing an awesome minimalist web design can be great, but adding in the textured elements to it can turn it into a visually stunning piece of artwork. Today's article will showcase some of the coolest designs that utilize textures and will also link you to some tutorials that will show you how to turn your website designs into a textured masterpiece :) Daily Payne ↓ David Arnback ↓ Information Highwayman ↓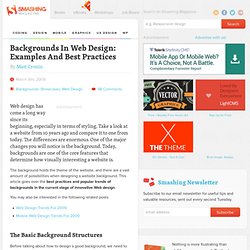 Advertisement Web design has come a long way since its beginning, especially in terms of styling. Take a look at a website from 10 years ago and compare it to one from today. The differences are enormous. One of the major changes you will notice is the background. Today, backgrounds are one of the core features that determine how visually interesting a website is.
Bad Design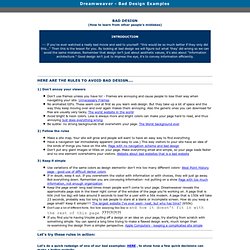 BAD DESIGN (How to learn from other people's mistakes) 1) Don't annoy your viewers Don't use frames unless you have to!
Website FAIL – 30 Web Designs That Will Hurt Your Eyes
20 Examples Of Bad Web Design
There is Yin and Yang, Black and White, Hot and Cold and unfortunately…Good Design and Bad Design. Since there must be a balance in the Universe, good design can`t exist alone. Below you can see 20 examples of very bad web design.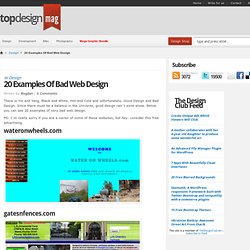 Examples of Good and Bad Web Design - Construx