Usability/design blogs
Ergonomie. L'ergonomie étudie la relation entre l'individu et ses moyens, méthodes et milieux de travail.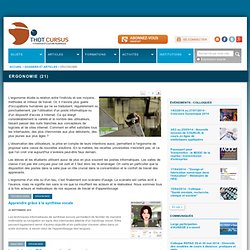 Or, il n'existe plus guère d'occupations humaines qui ne se traduisent, régulièrement ou ponctuellement, par l'utilisation d'un poste informatique ou d'un dispositif d'accès à Internet. Ce qui élargit considérablement la variété et le nombre des utilisateurs, faisant passer des nuits blanches aux concepteurs de logiciels et de sites internet. Comment en effet satisfaire tous les Internautes, des plus chevronnés aux plus débutants, des plus jeunes aux plus âgés ? Designs for Natural Learning « Performance X Design. What learning are you designing at the moment?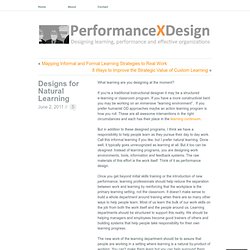 If you're a traditional instructional designer it may be a structured e-learning or classroom program. If you have a more constructivist bent you may be working on an immersive "learning environment". If you prefer humanist OD approaches maybe an action learning program is how you roll. These are all awesome interventions in the right circumstances and each has their place in the learning continuum. But in addition to these designed programs, I think we have a responsibility to help people learn as they pursue their day to day work. Boxes and Arrows: The design behind the design. Useit.com: Jakob Nielsen on Usability and Web Design.
---