Screen capture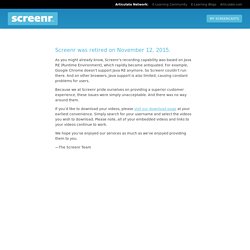 Using @Screenr to create and embed some kick butt training vignettes for a presentation. *LOVE* this website by @Articulate! #rocks —ross_sanders @screenr is awesome. Looking for excuses to use it. http://screenr.com/ —AbigailHS Where has @screenr been all my life?
Podcasting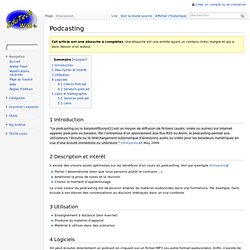 Cet article est une ébauche à compléter. Une ébauche est une entrée ayant un contenu (très) maigre et qui a donc besoin d'un auteur. 1 Introduction
Free Streaming Video Software What is it? CamStudio is able to record all screen and audio activity on your computer and create industry-standard AVI video files and using its built-in SWF Producer can turn those AVIs into lean, mean, bandwidth-friendly Streaming Flash videos (SWFs) Here are just a few ways you can use this software: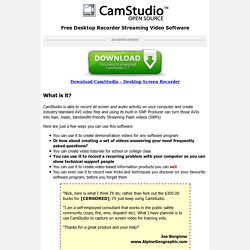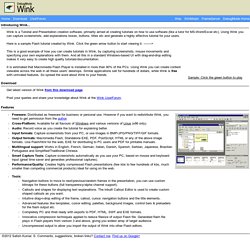 Here is a sample Flash tutorial created by Wink. Click the green arrow button to start viewing it. --------> This is a good example of how you can create tutorials in Wink, by capturing screenshots, mouse movements and specifying your own explanations with them. And all this in a standard Windows-based UI with drag-and-drop editing makes it very easy to create high quality tutorials/documentation.
Capture FOX Official Website
Capture Fox is a Firefox add-on and a handy tool to create tutorials about a software, a web site or anything that can be displayed on your computer. It records your screen frame by frame. You can also record your voice. Features Capture screen, record your sound and get an AVI (movie) file. Adjust video quality Easy to use.