Kid links
Digital Tools By Tanner Higgin, Graphite Chances are, if you have a smartphone or tablet, you've played Angry Birds. While Candy Crush Saga might currently top the charts, Angry Birds is the best selling app of all time. From an educator's perspective, what's exciting about Angry Birds' popularity versus something like Candy Crush is that getting good at Angry Birds means skillfully – and often unconsciously – using conceptual physics knowledge. It's something video games have been doing for years, but Angry Birds brought it to a mass audience, sneaking a bit of science into many students' digital diets.
Beyond Angry Birds, Five Apps That Test Your Physics Skills
HTML Tutorials
As a parent, I am always looking at what my children are learning and what they like. As a software developer, I hope that my daughters embrace their inner geek one day and get involved with technology. That being said, I was wondering at what age kids should learn programming and what resources there are to teach kids programming.
36 Resources To Help You Teach Kids Programming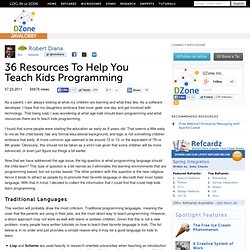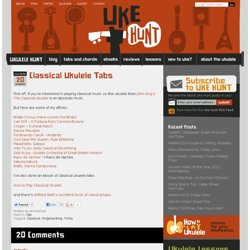 about links twitter youtube tumblr contact
Classical Ukulele Tabs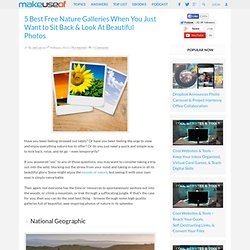 Have you been feeling stressed out lately? Or have you been feeling the urge to view and enjoy everything nature has to offer? Or do you just need a quick and simple way to kick back, relax, and let go – even temporarily?
5 Best Free Nature Galleries When You Just Want to Sit Back & Look At Beautiful Photos
How to make a Karaoke version of any .mp3 song using Audacity
Edit Article Remove Vocals YourselfFind Instrumental Versions Edited by Fadil Khan, Zack, Caligari_87, Jen and 46 others Do you need music for your Karaoke party, or just want to sing along to your favorite song without those pesky singers getting in your way? We'll show you a couple ways to find or make background tracks to minimize or eliminate the vocals. Ad
Take an MP3 File and Delete the Words to Create Karaoke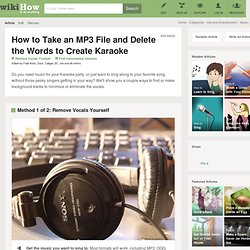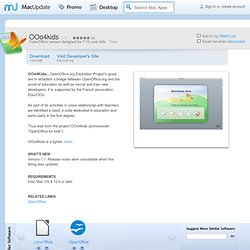 Download OOo4kids for Mac - OpenOffice version designed for 7-12 year olds
OpenOffice version designed for 7-12 year olds. Free OOo4Kids... OpenOffice.org Education Project's goals are to establish a bridge between OpenOffice.org and the world of education as well as recruit and train new developers.
Anatomy Arcade makes basic human anatomy come ALIVE through awesome free flash games, interactives and videos. Anatomy Arcade is perfect for the novice teenager in the classroom, right through to students and professionals of health care looking for a fun way to revise. With the help of Media Saints, we plan on making many more iPad apps.
Bonne année 2014 à tous ! Le site logicieleducatif.fr a pour objectif d'aider les élèves dans leurs apprentissages scolaires, grâce à des jeux éducatifs. Les jeux sont jouables en ligne, ils sont tous gratuits et aucune installation ni inscription n'est nécessaire. Tous les jeux ont été conçus par un enseignant spécialisé et formateur TUIC (Technique Usuelle de l'Information et de la Communication). En fonction des expérimentations et des retours des enseignants, des parents et des enfants eux-mêmes, les jeux sont mis à jour pour améliorer la pertinence sur le plan pédagogique, la jouabilité et les graphismes (même si ce n'est pas le but premier ici).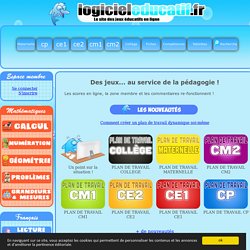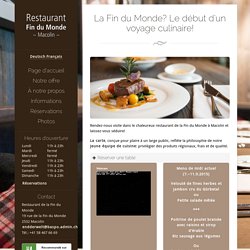 Derniers Bars avant la Fin Du Monde » Quartier de Chêne
35 rte de Chênes Bougerie (nous dit la carte de visite. Les glands ne trouvant que difficilement germe dans le quartier, il n'y a qu'un seul Chêne là-bas et donc céderait volontiers son 'S' aux bougeries) Toujours dans la série de nos expéditions qui vous sont maintenant bien connues à Chêne, sortant d'un monument findumondesque, nous ne pûmes en rester là et dûmes aller « s'en boire une tite der' » comme on dit. Le Cléo, déjà bien connu d'Olive sembla être la panache de la virée.
Handball Mag 28/10/2011
To answer a FAQ, yes, all the levels really ARE solvable! Here's a question for you: Once you've conquered all the levels, have you done them in the fewest number of possible moves? If this Flash game doesn't work on your computer, go here for help. Get a teacher or parent to help!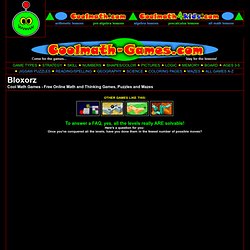 Scratch Geometry Game - psdbenj
Scratch Lesson Plan | Scratch Programming Resources and Videos
This lesson plan has been fully revised in September 2009 and is being used to help structure classes in several primary schools in Sussex in the south of England. Originally we devised written notes for teachers and parents but have now moved to providing video lessons for direct communication with the adult or child learning Scratch. Scratch is designed for 8-12 year olds to learn a particular style of programming suited to creating interactive applications with multimedia content. Scratch is often used informally within a school computer club with pupils encouraged to work in pairs on projects that interest them.
We didn't have the World Wide Web and its umpteen resources back in the good ol' days. So, I started my hunt for learning resources that would help her defeat Dmitri Mendeleev's creation in an 'atomic war'. I didn't have to go far because Google Chrome gave me three apps and extensions to try out. The other two online resources comprised a game and a multimedia showcase of the periodic table.
5 Online Teaching Tools That Help Your Child Learn The Periodic Table