Flash4me
Flash Reference Guide | Loading Movies into Levels and Target Movie Clips. Last updated Aug 22, 2003.
There are two ways through which you can load SWF and JPG files: into a level and into a Movie Clip. Loading into a Level. ActionScript3:Importing XML into Dynamic Textboxes - virtualMVwiki. From virtualMVwiki Introduction Use ActionScript 3 to import external data and display in dynamic Textboxes, using the same XML file used in the ActionScript 2 example of the same name.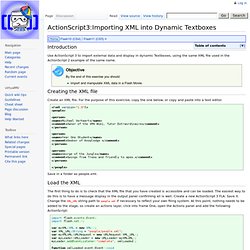 Creating the XML file Create an XML file. For the purpose of this exercise, copy the one below, or copy and paste into a text editor. Tutorials | I h♥rt actionscript. ActionScript.org Flash, Flex and ActionScript Community - Tutorials, Support, Open Source & More. Index. Forum: Flash.
---