Promotion
Blogger's - Make Stumbleupon your Best Friend in 2012. The Periodic Table Of SEO Ranking Factors. Sorry, Marketers, You're Doing Twitter Wrong [REPORT] Most marketers are tweeting too much on the wrong days, not using hashtags enough and almost never do the one thing that will dramatically boost their retweets — ask for them — according to a new study looking at how marketers use Twitter from Buddy Media.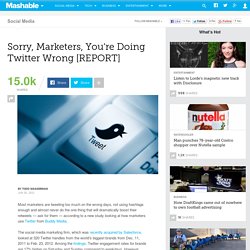 The social media marketing firm, which was recently acquired by Salesforce, looked at 320 Twitter handles from the world's biggest brands from Dec. 11, 2011 to Feb. 23, 2012. Among the findings: Twitter engagement rates for brands are 17% higher on Saturday and Sunday compared to weekdays. However, most brands aren't taking advantage of this phenomenon and, on average, only 19% of the brands' tweets were published on the weekend. If a brand spaced its tweets out evenly throughout the week, then 28.6% should occur on the weekends.
Personal Branding 101: How to Discover and Create Your Brand. Dan Schawbel is the author of Me 2.0: Build a Powerful Brand to Achieve Career Success, and owner of the award winning Personal Branding Blog.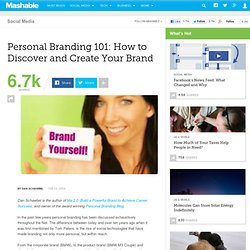 In the past few years personal branding has been discussed exhaustively throughout the Net. The difference between today and over ten years ago when it was first mentioned by Tom Peters, is the rise of social technologies that have made branding not only more personal, but within reach. From the corporate brand (BMW), to the product brand (BMW M3 Coupe) and down to the personal brand (car salesman), branding is a critical component to a customer's purchasing decision. Not Logged In.
---