Photographs
Sean Connery eating spaghetti in Rome, 1963. Diego Maradona in a Union Jack t-shirt with Brian May, Freddie Mercury, Roger Taylor and John Deacon from Queen, 1981. Connie Foster and Jodie Foster on the set of Taxi Driver. Since Jodie was only 12 during filming, her 20-year-old sister, Connie, doubled her in scenes with adult dialogue or sexually suggestive scenes.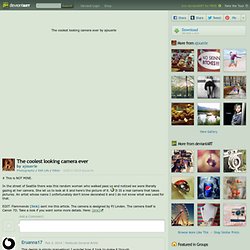 # This is NOT MINE. In the street of Seattle there was this random woman who walked pass us and noticed we were literally gazing at her camera. She let us to look at it and here's the picture of it. It IS a real camera that takes pictures.
The coolest looking camera ever by ~ajouerle on deviantART
National Geographic is currently holding its annual photo contest, with the deadline for submissions coming up on November 30. For the past nine weeks, the society has been gathering and presenting galleries of submissions, encouraging readers to vote for them as well. National Geographic was kind enough to let me choose among its entries from 2011 for display here on In Focus.