Beauty
Detox Foods | Detox smoothies - StumbleUpon. Toxins-free for life Looking to increase your energy levels, to lose weight, get clearer skin, prevent premature ageing and to help preventing diseases?
Then look no further! This 5 days step-by-step detox will help you implement long-lasting healthy habits that yields results. Makeup Mon...errr Tuesday: Green Eyes - StumbleUpon. First, I know it's Tuesday and I'm predictably late with Makeup Monday.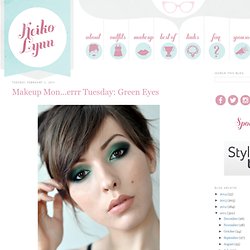 I hope the lack of alliteration doesn't detract from the post; I promise that I have lots of great excuses for not putting this up yesterday. Or, I fell asleep. One of my first forays into the wonderful world of bright eyeshadow was with a beautiful shade of green from Milani (whose older shadows were amazing), and I was forever hooked. Green has since become the most popular color in my rather large makeup collection, though I can't remember the last time I gave them a proper spotlight. That was rectified immediately, upon my recent purchase of the Urban Decay Black Palette, which has a beautiful dark emerald that was surprisingly missing from my arsenal. Tie-a-Tie.net | Learn How to Tie a Tie - StumbleUpon. DIY - MAKE YOUR OWN WAX FOR HAIR REMOVAL - Fashion + Beauty on Shine - StumbleUpon. I was chatting with someone on my flight back from my vacation.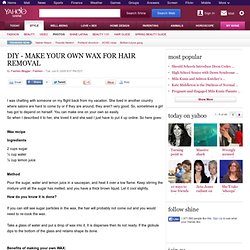 She lived in another country where salons are hard to come by or if they are around, they aren't very good. So, sometimes a girl has got to depend on herself. StyleList.com – Fashion, Style, Beauty, Hairstyles, &Celebrities. Hairstyles, Haircuts and Hair Colors | Hairstyles by TheHairStyler.com. DIY Weekend Spa Treatments - Martha Stewart Home & Garden. Simple, natural beauty treatments using Ayurvedic ingredients will promote balance and serenity during your retreat.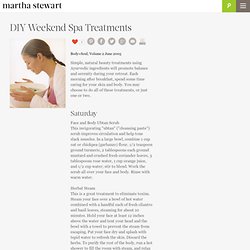 Each morning after breakfast, spend some time caring for your skin and body. You may choose to do all of these treatments, or just one or two. SaturdayFace and Body Ubtan ScrubThis invigorating "ubtan" ("cleansing paste") scrub improves circulation and help tone slack muscles. How To Get The High (Very French-Feeling) Bun. Lately, it seems, we've been inundated with red carpet high buns—Charlize Theron loves 'em, Rachel Bilson went high and tight recently, and SJP has sported the high bun for years.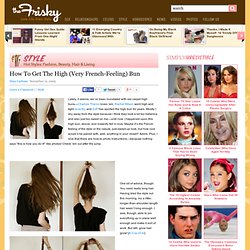 Mostly I shy away from the style because I think they look a bit too ballerina and also just too sweet on me—until now. I happened upon this high bun, above, and instantly fell in love. Maybe it's the French feeling of the style or the casual, just-swept-up look, but how cool would it be paired with, well, anything in your closet? Adore. Plus, I love that there are how-to photo instructions—because nothing says "this is how you do it!"
Hair Cut &Hair Style. "Don't have your Haircut or Hair colored without consulting My guide to the sexiest looks out there.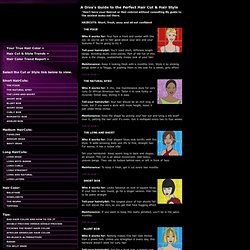 HAIRCUTS: Short, fresh, sexy and all out confident Who it works for: Your face is front and center with this cut, so you've got to feel good about your skin and your features if You're going to try it. GUEST POST - thebeautydepartment.com. Photos by: Kathleen Bly post designed by kristin ess Mad love for our first guest post winner, Taylor Nick!!!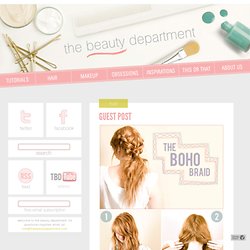 I am fully obsessed with this bohemian-inspired-braided-goodness! Truly Yours Strawberry Dress | Mod Retro Vintage Printed Dresses. /productshots/0082/1777/56b1737607013307efcd2c220bc0ebad.jpg?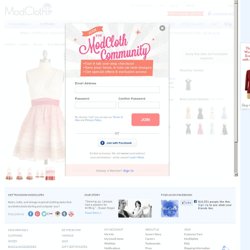 1312904949/productshots/0082/1783/7ea4865bcfdcf9a4e8e955508b2df007.jpg? 1312904957/productshots/0082/1789/0fb429c931ee030cd5592febab5629c7.jpg? 1312904965/productshots/0080/9465/db994391ee6888b3e06a726b5f19136d.gif? Vintage Inspired Necklaces &Affordable Jewelry at ShopRuche.com, A... Home Facials - Get Natural Skincare Ideas at WomansDay.com. Facials are a great way to keep your skin glowing, but they can be pricey.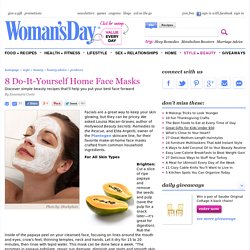 We asked Louisa Macan-Graves, author of Hollywood Beauty Secrets: Remedies to the Rescue, and Elda Argenti, owner of the Plantogen skincare line, for their favorite make-at-home face masks crafted from common household ingredients. For All Skin Types. Yoga Postures Step-By-Step - Index to Poses. Water Marble Tutorial. Supplies: orange stick or...
Water Marble Tutorial.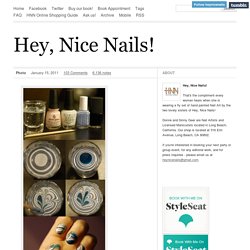 Supplies: orange stick or toothpick, shot glass or cup (the smaller the circumference, the less polish you end up wasting), room temp. water, nail polish, tape (optional, but it helps with the clean up) I like to begin by prepping my nails with base coat and one coat of polish. Get the look - how-to create your favorite makeup looks. 10 Ways to Wake Up Gorgeous. Image: Getty Sometimes looking in the mirror first thing in the morning can be… challenging. Messy hair, dark circles, puffy face. Unless you're Karlie Kloss, chances are it's not a pretty sight.