Film
Roger Ebert's Journal. Thank you.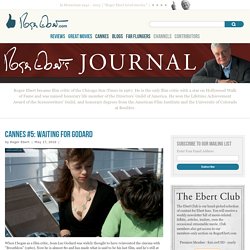 Forty-six years ago on April 3, 1967, I became the film critic for the Chicago Sun-Times. Some of you have read my reviews and columns and even written to me since that time. M o v i e l e n s. The Criterion Cast. Mark Kermode's film blog. Home | British Film Institute. Film. MUBI. ROTTEN TOMATOES: Movies - New Movie Reviews and Previews! Entertainment and World News on Monsters and Critics.
Metacritic - Movie Reviews, TV Reviews, Game Reviews, and Music Reviews. Rogerebert.com :: Movie reviews, essays and the Movie Answer Man from film critic Roger Ebert. Movie Reviews | Film Critics Review This Week's Films. Movie Reviews & TV Show Reviews.
Greatest Films - The Best Movies in Cinematic History. Movie City News. The A.V. Club. Cinema Blend. Empire: Film Reviews, Movie News and Interviews. Screen Rant: Movie News, Movie Reviews, Movie Trailers, TV News. Turner Classic Movies. Ain't It Cool News: The best in movie, TV, DVD, and comic book news. Independent Movies, Film Festivals, New Movies Reviews, News and Interviews - Film Threat. The Internet Movie Database (IMDb) Movie News Columns.
---