Art
Empty bullet casings adorn gorgeous Art Mirror. While we don't want you to shoot bullets to try this kind of art at home, there is no dearth of designers who are on the hunt of bullet shells to carve out something unique and creative.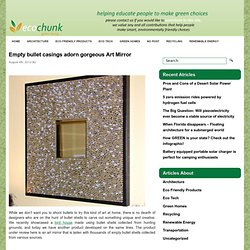 We recently showcased a bird house made using bullet shells collected from hunting grounds, and today we have another product developed on the same lines. The product under review here is an art mirror that is laden with thousands of empty bullet shells collected from various sources. 99 Excellent Examples of Forced Perspective Photography | Photography. Forced perspective is a technique that employs optical illusion to make an object appear farther away, closer, larger or smaller than it actually is.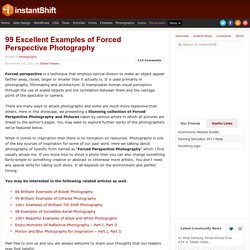 It is used primarily in photography, filmmaking and architecture. It manipulates human visual perception through the use of scaled objects and the correlation between them and the vantage point of the spectator or camera. There are many ways to attack photography and some are much more expensive than others. Here in this showcase, we presenting a Stunning collection of Forced Perspective Photography and Pictures taken by various artists in which all pictures are linked to the author's pages. You may want to explore further works of the photographers we've featured below. Fascinating Living, Growing Architecture.
( 185 Votes ) Still-living plants can themselves be shaped into bridges, tables, ladders, chairs, sculptures - even buildings.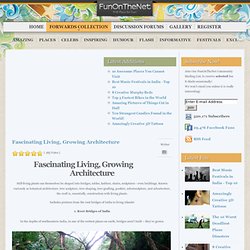 Known variously as botanical architecture, tree sculpture, tree-shaping, tree-grafting, pooktre, arborsculpture, and arbortecture, the craft is, essentially, construction with living plants. Includes pictures from the root bridges of India to living islands! 1. Photography. 50 Most Strange and Unusual Buildings arround the World. The world is full of beautiful strange and fantastic buildings that are the examples of amazing architecture.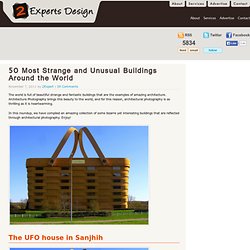 Architecture Photography brings this beauty to the world, and for this reason, architectural photography is as thrilling as it is heartwarming. In this roundup, we have compiled an amazing collection of some bizarre yet interesting buildings that are reflected through architectural photography. Enjoy! Suddenly I Feel Much Better About Myself. Best wallpapers. Pulpography Pulp Fiction Pistol Quote Tattoo Pictures at Checkoutmyink.com - StumbleUpon. Nail Art.
SOCIETY' Cat-mountain.jpg from thefuturebuzz.com - StumbleUpon. Fabio Viale - Ahgalla.
---