Recommendations
SExpand
The Best Science Fiction and Fantasy Novels to Cheer You the Frak Up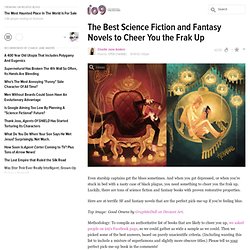 Very Real Magical Realism by G. Willow Wilson / Books / Untitled Books
Comics College | Marjane Satrapi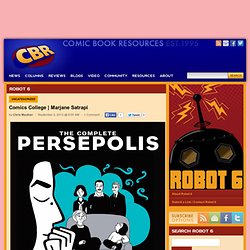 by Chris Mautner| September 2, 2012 @ 9:00 AM |1 Comment|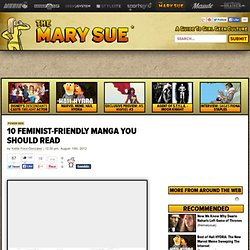 10 Feminist Manga Licensed In The United States
by Kellie Foxx-Gonzalez | 12:30 pm, August 15th, 2012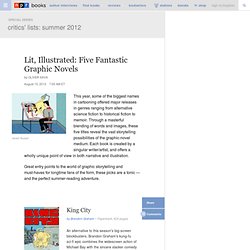 Harriet Russell
Lit, Illustrated: Five Fantastic Graphic Novels
Your Picks: Top 100 Science-Fiction, Fantasy Books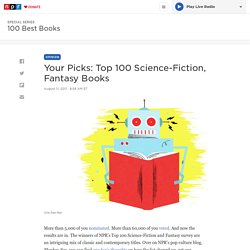 Chris Silas Neal More than 5,000 of you nominated. More than 60,000 of you voted. And now the results are in. The winners of NPR's Top 100 Science-Fiction and Fantasy survey are an intriguing mix of classic and contemporary titles. Over on NPR's pop culture blog, Monkey See, you can find one fan's thoughts on how the list shaped up, get our experts' take, and have the chance to share your own.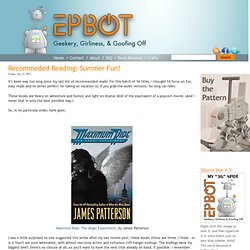 It's been way too long since my last list of recommended reads! For this batch of YA titles, I thought I'd focus on fun, easy reads and/or series perfect for taking on vacation or, if you grab the audio versions, for long car rides. These books are heavy on adventure and humor, and light on drama: kind of the equivalent of a popcorn movie.
Recommeded Reading: Summer Fun!
Recommended Reading: After The Hunger Games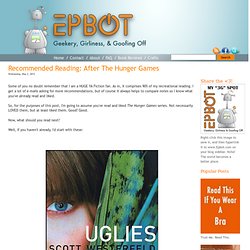 Some of you no doubt remember that I am a HUGE YA Fiction fan.
Books Every Geek Should Read to Their Kids
Bas Bleu® Catalog
Staff Top 5s of 2011
Reading When I Don't Have To: My Top Ten Books of 2011 « Lucy's Football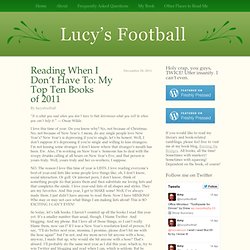 "It is what you read when you don't have to that determines what you will be when you can't help it." — Oscar Wilde I love this time of year. Do you know why? No, not because of Christmas. No, not because of New Year's.
WpdLE.jpg (2888×1748)
September, 2011 The stereotypical detective in historical fiction is most often masculine, with a pipe at hand or a gun in his holster. But in Laurie R. King's series of mysteries set during World War I and 1920s England, heroine Mary Russell fights crime with her impressive deductive reasoning and panache.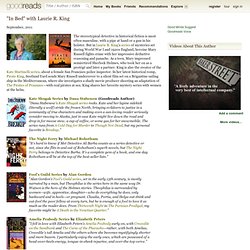 In Bed" with Laurie R. King (Author of The Beekeeper's Apprentice)
Many of you told us you just can't wait until mid-August — when we unveil the results of the Science Fiction and Fantasy Vote — to start reading. So here's the complete list of finalists, nominated by you and the NPR Science Fiction and Fantasy Panel. Happy reading!
Science Fiction And Fantasy Finalists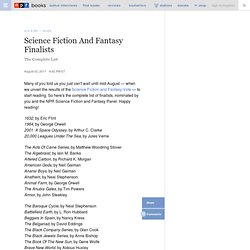 Top 100 Science Fiction, Fantasy Books
More than 60,000 ballots were cast in our annual summer reader's survey — click here to see the full list of 100 books, complete with links and descriptions. Below is a printable list of the top 100 winners. And for even more great reads, check out the complete list of 237 finalists. 1.
Debbie's been reading: Seligman, Martin (2011) Flourish. Random House. A new understanding of what it takes to reach life's greatest goals.
August | 2011 | 7:30 Bookclub
League of Extraordinary Ladies
Since I've had several of you ask for steampunk book recommendations, I thought I'd put together a little list. So, if you like Victorian alternative history adventures with dashes of the supernatural, airships, and plenty of gadgetry, read on! Note: I'll just be telling you whether I liked each title one or not, so hit the individual links for more info and plot summaries over on Amazon.
Essential Steampunk Reading List
The Best YA Fantasy Books (Part 1)
After all the requests following my last book review, I thought I'd start a series of book recommendations for you fellow YA fiction fans. As I mentioned before, YA fantasy is my genre of choice, so today's will all be of that specific niche. And because I have a lot of favorites, I'll be keeping this post to five titles.
Introducing the July Shortlist - Jeff Howe - Entertainment
Anna Karenina by Leo Tolstoy - Summer Books
Conquistadora By Esmeralda Santiago - Book Finder
Fanmail FAQ: Looking for Good Books….
Nancy Pearl Presents 10 Terrific Summer Reads
Essential Steampunk Reading List
Book Club Girl - Book Group Recommendations, Reading Group Guides, Audio Book Club Podcasts