Productivity
25 Tips to Become More Productive and Happy at Work. 25 Tips to Become More Productive and Happy at Work Have you gotten into a rut at work?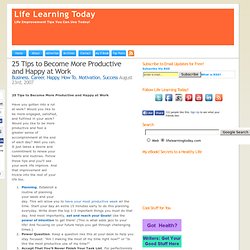 Would you like to be more engaged, satisfied, and fulfilled in your work? Would you like to be more productive and feel a greater sense of accomplishment at the end of each day? Well you can. It just takes a desire and commitment to renew your habits and routines. The Art of Manliness | Men's Interests and Lifestyle. 9 Tips for Emailing Important People. Editor's note: This is an exclusive excerpt from the course, How To Email Important People.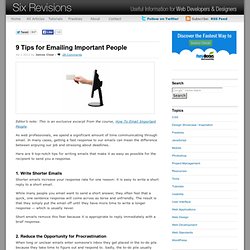 As web professionals, we spend a significant amount of time communicating through email. In many cases, getting a fast response to our emails can mean the difference between enjoying our job and stressing about deadlines. The Ultimate Getting Things Done Index. 7 Secrets of the Super Organized.
A few years ago, my life was a mess.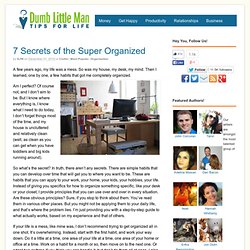 So was my house, my desk, my mind. Then I learned, one by one, a few habits that got me completely organized. D*I*Y Planner | the best thing in printing since Gutenberg. 7 Secrets of the Super Organized. 5 Steps for Taking on Something New. It's a scenario most solo web professionals find themselves in now and then: You have the opportunity to work on a project that includes something you haven't done before, and that something is pretty big.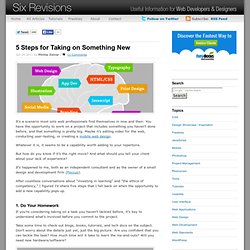 Maybe it's editing video for the web, conducting user-testing, or creating a mobile web design. Whatever it is, it seems to be a capability worth adding to your repertoire. But how do you know if it's the right move? 50 Tricks to Get Things Done Faster, Better, and More Easily - S. We all want to get stuff done, whether it's the work we have to do so we can get on with what we want to do, or indeed, the projects we feel are our purpose in life.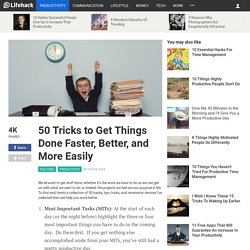 To that end, here's a collection of 50 hacks, tips, tricks, and mnemonic devices I've collected that can help you work better. Most Important Tasks (MITs): At the start of each day (or the night before) highlight the three or four most important things you have to do in the coming day. Why You Should Set Up Your To-Do List in a Plain Text File (and How to Do It) I recognise the rationale and wont naysay what works for someone else.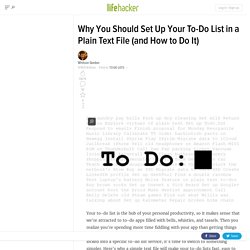 For me though, I find it advantageous to make the connection between my projects list and the Next Actions on those projects within my system itself. Simliarly I find it useful to keep key information about that task within the task itself - temporary telephone numbers, people I spoke to, dates stuff happened, etc. Now I either keep this material within the To Do manager, in another computer/paper system, or in my head. If I use a text file, all Im doing is moving that complexity and information over to another system, it doesnt get rid of it. Similarly if my To Do list has nothing more than 10 items with things like 'Get cat food' on it, then I can probably live with a simple list.
60 Ways to Get Organized & Take Control of Your Life. Strategic Project Management. It might be your fault.
Not exactly your fault, but according to Scott Blanchard of The Ken Blanchard Companies , "Leadership development training is a smart, prudent investment that drives eoncomic value and bottom line results. But if people perceive that senior executives don't care about development then—guess what—development will not be a priority for the company." How does this make it even remotely your fault—or not exactly your fault? GTD Do-It-Yourself Planner v1.0. In need of a last-minute gift?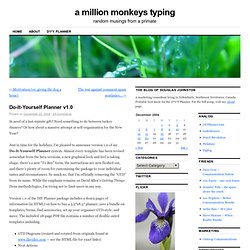 Need something to do between turkey dinners? Or how about a massive attempt at self-organisation for the New Year? Just in time for the holidays, I'm pleased to announce version 1.0 of my Do-It-Yourself Planner system. Almost every template has been revised somewhat from the beta versions, a new graphical look and feel is taking shape, there's a new "To Buy" form, the instructions are now fleshed out, and there's plenty of room for customising the package to your individual tastes and circumstances. So much so, that I'm officially removing the "GTD" from its name.
---