Vidéos documentaires
No matter how much you know, there is always something new to learn about science. While your college courses may cover the basics, you can get a more in-depth look at a wide variety of topics from Internet resources such as these great documentaries. These selections will help you explore everything from the inner reaches of the human mind to the outer areas of our universe and just about everything else in between.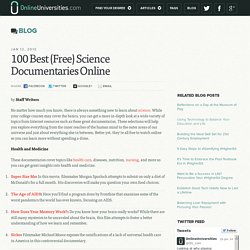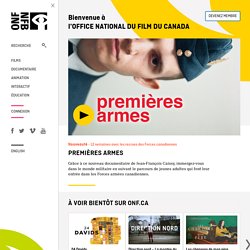 Une petite partie de Scrabble®?Visionnez ce film d'animation, nommé aux Oscars® en 1985, qui nous fait partager l'existence d'un couple en proie à une querelle familiale tandis qu'à l'extérieur, éclate un conflit nucléaire.Visionnez maintenant Le film qui a influencé Stanley Kubrick Portrait de la Chine communiste Sélectionné aux Oscars® en 1958 Laissez notre équipe de blogueurs vous guider à travers notre collection de films et de projets interactifsVisitez Apprenez à animerune image à la foisExplorez Procurez-vous le meilleur de l'ONF en format numériqueVisitez Ce site est l'Espace de visionnage en ligne de l'ONF, le producteur et distributeur public de films du Canada. Voyez gratuitement des documentaires, des films d'animation et des projets interactifs uniques qui racontent notre monde d'un point de vue canadien.
Four Horsemen Four Horsemen is a bare-bones documentary about how we can restart the world's economy. 23 international thinkers, government advisors and Wall Street money-men break their silence[...] Watch Documentary Online Now Documentaries : Defined Documentary films constitute a broad category of nonfictional motion pictures intended to document some aspect of reality, primarily for the purposes of instruction or maintaining a historical record.A 'documentary film' was originally shot on film stock — the only medium available — but now includes video and digital productions that can be either direct-to-video, made as a television program or released for screening in cinemas.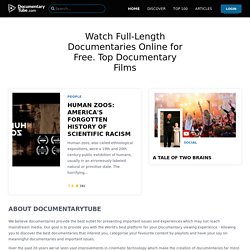 Thrive: What on Earth Will It Take? 77.95K Views5 Likes THRIVE is an unconventional documentary that lifts the veil on what's REALLY going on in our world by following the money upstream -- uncovering the global consolidation of power in nearly every aspect of our lives.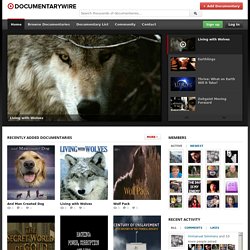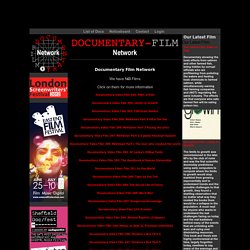 We have 190 Films Click on them for more information Documentary Video Film 299: Meltdown Part 4 After the fall Documentary Video Film 298: Meltdown Part 3 Paying the price Documentary Video Film 297: Meltdown Part 2 A global financial tsunami
The Viking Warriors The Vikings (from Old Norse víkingr) were seafaring north Germanic people who raided, traded, explored, and settled in wide areas of Europe, Asia, and the North Atlantic islands from the late 8th to the mid-11th centuries. The Vikings employed wooden longships with wide, shallow-draft hulls, allowing navigation in rough seas or in shallow river waters.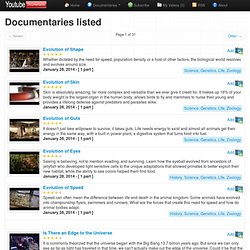 Interview avec Aris Hatzistefanou, journaliste à l'origine de Debtocracy, un documentaire-choc qui a rencontré un grand succès. Il demande une commission d'audit sur la dette grecque et prône une sortie de l'euro. Cette interview a été initialement publiée sur OWNI.eu le 6 mai dernier. Suite à la publication de la version sous-titrée en français du documentaire, nous publions aujourd'hui la traduction française.