SQL / PHP / Network
Network Security Tools. Network Calculators. NETadMIN Interviews. SSH. OpenSSH is a FREE version of the SSH connectivity tools that technical users of the Internet rely on.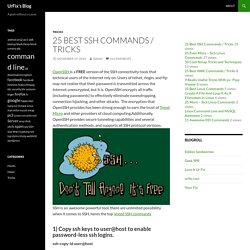 Users of telnet, rlogin, and ftp may not realize that their password is transmitted across the Internet unencrypted, but it is. OpenSSH encrypts all traffic (including passwords) to effectively eliminate eavesdropping, connection hijacking, and other attacks. The encryption that OpenSSH provides has been strong enough to earn the trust of Trend Micro and other providers of cloud computing.Additionally, OpenSSH provides secure tunneling capabilities and several authentication methods, and supports all SSH protocol versions.
SCRIPT COMPARE. A side-by-side reference sheet sheet one: grammar and invocation | variables and expressions | arithmetic and logic | strings | regexes | dates and time | arrays | dictionaries | functions | execution control | exceptions | concurrency sheet two: file handles | files | file formats | directories | processes and environment | option parsing | libraries and namespaces | objects | polymorphism | reflection | net and web | unit tests | debugging and profiling | java interop.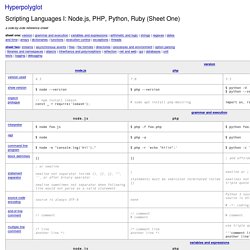 SQL Training. PHP 101. This area is intended for everyone new to PHP.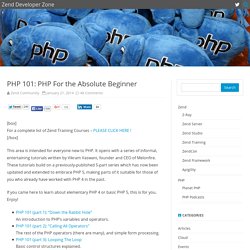 It opens with a series of informal, entertaining tutorials written by Vikram Vaswani, founder and CEO of Melonfire. These tutorials build on a previously-published 5-part series which has now been updated and extended to embrace PHP 5, making parts of it suitable for those of you who already have worked with PHP 4 in the past. Encryption. Steve Friedl's Tech Tips. Does this site look plain?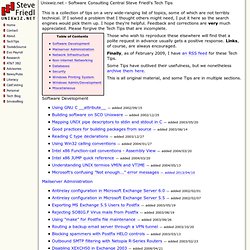 This site uses advanced css techniques Unixwiz.net - Software Consulting Central Steve Friedl's Tech Tips This is a collection of tips on a very wide-ranging list of topics, some of which are not terribly technical. Router Info. Default Router Passwords.
---