SQL / PHP / Network
SecTools.Org: Top 125 Network Security Tools For more than a decade, the Nmap Project has been cataloguing the network security community's favorite tools. In 2011 this site became much more dynamic, offering ratings, reviews, searching, sorting, and a new tool suggestion form . This site allows open source and commercial tools on any platform, except those tools that we maintain (such as the Nmap Security Scanner , Ncat network connector , and Nping packet manipulator ). We're very impressed by the collective smarts of the security community and we highly recommend reading the whole list and investigating any tools you are unfamiliar with.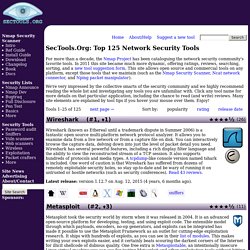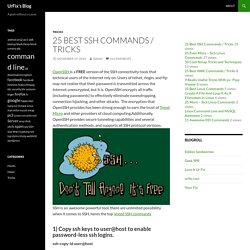 OpenSSH is a FREE version of the SSH connectivity tools that technical users of the Internet rely on. Users of telnet, rlogin, and ftp may not realize that their password is transmitted across the Internet unencrypted, but it is. OpenSSH encrypts all traffic (including passwords) to effectively eliminate eavesdropping, connection hijacking, and other attacks. The encryption that OpenSSH provides has been strong enough to earn the trust of Trend Micro and other providers of cloud computing.Additionally, OpenSSH provides secure tunneling capabilities and several authentication methods, and supports all SSH protocol versions.
a side-by-side reference sheet sheet one: grammar and invocation | variables and expressions | arithmetic and logic | strings | regexes | dates and time | arrays | dictionaries | functions | execution control | exceptions | concurrency sheet two: file handles | files | file formats | directories | processes and environment | option parsing | libraries and namespaces | objects | polymorphism | reflection | net and web | unit tests | debugging and profiling | java interop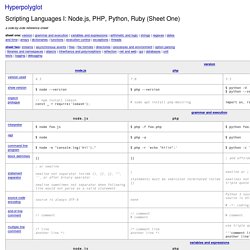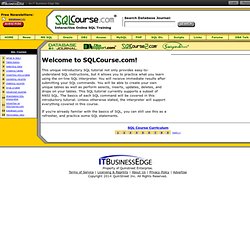 This unique introductory SQL tutorial not only provides easy-to-understand SQL instructions, but it allows you to practice what you learn using the on-line SQL interpreter. You will receive immediate results after submitting your SQL commands. You will be able to create your own unique tables as well as perform selects, inserts, updates, deletes, and drops on your tables. This SQL tutorial currently supports a subset of ANSI SQL. The basics of each SQL command will be covered in this introductory tutorial. Unless otherwise stated, the interpreter will support everything covered in this course.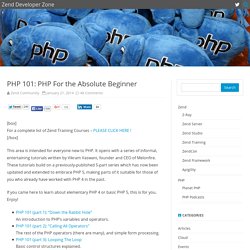 This area is intended for everyone new to PHP. It opens with a series of informal, entertaining tutorials written by Vikram Vaswani, founder and CEO of Melonfire. These tutorials build on a previously-published 5-part series which has now been updated and extended to embrace PHP 5, making parts of it suitable for those of you who already have worked with PHP 4 in the past.
Steve Friedl's Tech Tips
Does this site look plain? This site uses advanced css techniques Unixwiz.net - Software Consulting Central Steve Friedl's Tech Tips This is a collection of tips on a very wide-ranging list of topics, some of which are not terribly technical.