Decor inspiration
- StumbleUpon
Apr22 Advertisement 1.1K Flares1.1K Flares ×
This Messy Business: Arcadian Lighting: 8 Laundry Rooms to Love
We all know I've had light fixtures on the brain lately... especially if you follow on Pinterest you know I've been pinning some drum lights like crrraaazzzzyyyy, and of course you all know my love for great laundry rooms. Luckily Arcadian Lighting is joining us today to give us a dose of both! Awesome! Hi, I'm Susi, a blogger for Arcadian Lighting, a cool source for the latest in decor trends and light fixtures. When I'm not writing for Arcadian Lighting, I love guest writing for great blogs like This Messy Business. Today's guest post is about eight laundry rooms to love.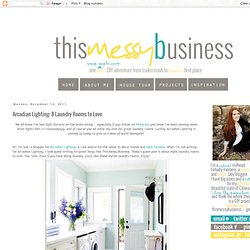 What do you think of some rustic harshness in your bathroom? Bare stone walls work just fine with sleek concrete surfaces, creating a space that radiates an organic uniqueness I simply can't say no. Actually, it is the use of both antiquated and modern techniques that makes this style so appealing, and, taking it from photo no 3, adding a vintage piece like the large gilded mirror, a log and a few wicker baskets, or, like photo no 4, a stark, frameless mirror and inox fixtures, you can fine tune the atmosphere from total country chic to contemporary elegance. So, is bare stone something you'd opt for?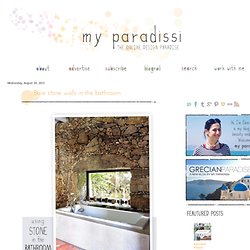 Cottage Hallways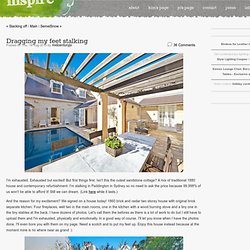 desire to inspire - desiretoinspire.net - Dragging my feet&stalking
Pages Search Jo on Instagram
House of Turquoise: Cottage Kitchen Makeover
Sometimes the prettiest kitchens are not the biggest or most expensive! Designed and produced by Donna Talley for Better Homes & Gardens, this cute cottage kitchen used to be drab and cramped. The results of the homeowner's renovation make the space so light and cheery, and much more functional. I love the open shelving, it's such a great way to display all of their pretty dinnerware and accessories. The vintage-style pulley fixtures are super cute too!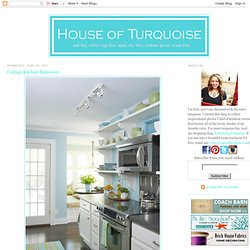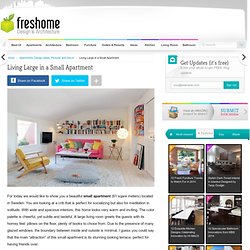 For today we would like to show you a beautiful small apartment (61 sqare meters) located in Sweden. You are looking at a crib that is perfect for socializing but also for meditation in solitude. With wide and spacious interiors, this home looks very warm and inviting.
Simply Kelly: Stunning Office Transformation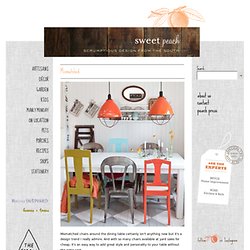 Mismatched chairs around the dining table certainly isn't anything new but it's a design trend I really admire. And with so many chairs available at yard sales for cheap, it's an easy way to add great style and personality to your table without the extra cost... I really like this top grouping of chairs. Most appear to be the same chair but are covered in different vintage fabrics. So after you find your set of chairs at a local thrift store or Habitat for Humanity, put the money towards great fabrics and some upholstery.
Sweet Peach - Home - Mismatched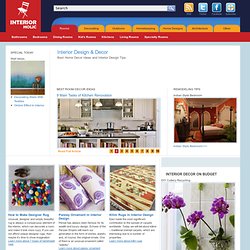 Unusual, designer and simply beautiful rug is always a conspicuous element of the interior, which can decorate a room and make it look more cozy. If you can not afford unique designer rugs, then maybe it's time to show imagination Learn more about 7 types of handmade rugs Persia has always been famous for its wealth and luxury design. Echoes of the Persian Empire still reach our generation in the form of stories, jewelry and, of course, the original ornate. One of them is an unusual ornament called "paisley".
Times Interior - Design interior magazine - New interior design ideas,...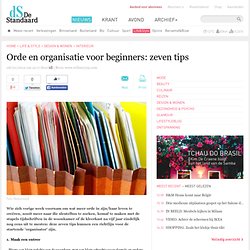 Wie zich vorige week voornam om wat meer orde in zijn/haar leven te creëren, nooit meer naar die sleutelbos te zoeken, komaf te maken met de stapels tijdschriften in de woonkamer of de kleerkast na vijf jaar eindelijk nog eens uit te mesten: deze zeven tips kunnen een richtlijn voor de startende 'organisator' zijn. 1. Maak een entree - Plaats een klein tafeltje aan de voordeur, met een klein schaaltje voor sleutels en andere kleinigheden die je anders sowieso de volgende dag niet meer vindt. - Installeer een schuif of opbergvak voor de post of de rekeningen waar je niet meteen de tijd voor vindt. Kies een vaste dag waarop je het 'Postvak In' leegmaakt. - Hang vier à vijf eenvoudige kapstokhaakjes aan de muur vlakbij de voordeur, zodat jasjes, sjaals, mutsen of handschoenen éindelijk niet meer in huis rondslingeren. - Shop een oude, grote vaas in de tweedehandswinkel om paraplu's aan de deur te bewaren.
Orde en organisatie voor beginners: zeven tips
Beat Those Laundry Room Blues - Bob Vila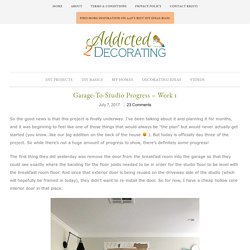 Ready to move from Blogger to WordPress? You can do it yourself! My e-book has over80 pages with over 100 screenshots towalk you through the entire process. Disclosure of Material Connection: I received one or more of the products or services mentioned in some of my posts for free in the hope that I would mention it on my blog. Regardless, I only recommend products or services I use personally and believe my readers will enjoy. I am disclosing this in accordance with the Federal Trade Commission's 16 CFR, Part 255: "Guides Concerning the Use of Endorsements and Testimonials in Advertising."
I have begun to meet up with several of my 555 residents to document some of their downsizing solutions. It has been so much fun re-connecting with them, touring their homes and having them share their downsizing stories with me. One of my favorite solutions that I have seen is the closet office! In a smaller living quarters, sometimes the office space is the first to go but with a little creativity, one can put that workspace back into the plan! One of my "downsizers" did just that!
Basketball Court Living Room - My Modern Metropolis
Now that we've all seen a pool inside a living room, a basketball court doesn't seem too far-fetched, does it? Sure, it's not often that we see a regulation-size basketball hoop in the living room, with heated hardwood floors to boot! (The tree in the dining room is also a nice touch.)