Twitter
JamiQ social media mapping tool
Ever thought to yourself that you wish there was some way you could take a look back and see what you tweeted around this time last year? Or perhaps you remember that time you tweeted about that hilarious viral video, and now you can't find it? By installing Tweet Nest on your own web server, now you can! Features include: Archive Use Tweet Nest to easily store, browse and search amongst your tweets to find exactly what you're looking for, and let others do the same.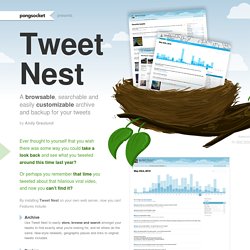 Twitter et le canular du modèle payant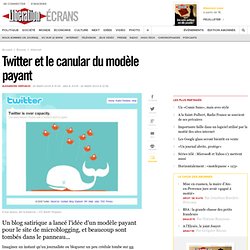 Imaginez un instant qu'un journaliste ou blogueur un peu crédule tombe sur un sketch de Groland ou un détournement de Mozinor , et qu'il aie ensuite la mauvaise idée de prendre leur délire pour argent comptant, le répétant ainsi comme un téléphone arabe.
De notre correspondant à Los Angeles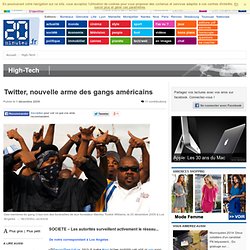 Twitter, nouvelle arme des gangs américains
Twitterfeed not working - Go for Alternatives ~ BlogPandit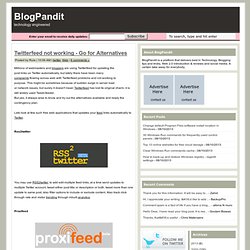 Millions of webmasters and bloggers are using Twitterfeed for updating the post links on Twitter automatically, but lately there have been many complaints flowing across web with Twitterfeed problems and not working to purpose. This might be sometimes because of sudden surge in server load or network issues, but surely it doesn't mean Twitterfeed has lost its original charm, it is still widely used Tweet-feeder.But yes, it always wise to know and try out the alternatives available and ready the contingency plan.
URL Shortener
Twitter Business Center
We have confirmed with Twitter that beta testing of its new business features, dubbed the "Twitter Business Center," has begun. According to the company, "only a handful of accounts have these features presently," but it will expand on a gradual basis to more accounts. One of the biggest additions is the ability for businesses to accept direct messages on the service, even from people they don't follow.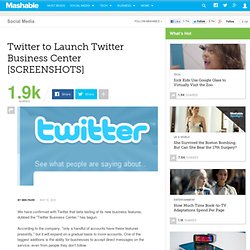 Unofficially Denton (DentonPolice) on Twitter