Mobile / tablet
Problèmes de CSS avec l'iPad - Nico's Dreams - Nicolas-Hoffmann.net
Responsive Design Trends for the Mobile Web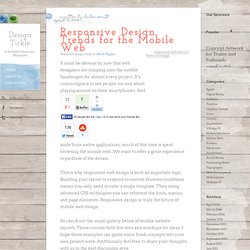 It must be obvious by now that web designers are jumping onto the mobile bandwagon for almost every project. It's commonplace to see people out and about playing around on their smartphones. And aside from native applications, much of this time is spent browsing the mobile web.
Préambule : le "Web mobile" n'existe pas. Il n'y a qu'un seul Web et il ne change pas de visage selon votre périphérique de connexion. Le terme de "Web mobile" demeure cependant relativement parlant pour évoquer "le Web en situation de mobilité", c'est pourquoi je me permets de l'employer au cours de cet article. Notre génération a jusque là été habituée à une évolution du Web prévisible et contrôlable : des écrans de bureau de plus en plus larges et des types de réseaux et connexions internet de plus en plus rapides. La démocratisation des périphériques mobiles (smartphones, tablettes et consorts) introduit de nouvelles contraintes et un inversement brutal de la tendance : les écrans deviennent subitement minuscules, et la connectivité en pâtit aussi : au mieux, votre mobile bénéficiera d'un réseau Wi-Fi, au pire… de rien du tout.
Introduction à la performance pour le Web mobile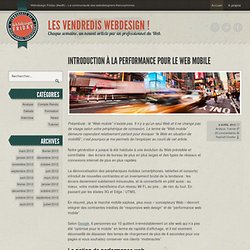 » Responsive IMGs Part 2 — In-depth Look at Techniques Cloud Four Blog
Responsive IMGs Part 2 — In-depth Look at Techniques In Responsive IMGs Part 1 , I took a high-level look at what responsive IMGs are, the problem they are trying to solve, and the common issues they face. In this post, I'm going to take a deeper look at the specific techniques being used to provide responsive IMGs and try to evaluate what works and doesn't. If you haven't read part 1 , you may want to do so before reading this post as it will help explain some of the terms I use.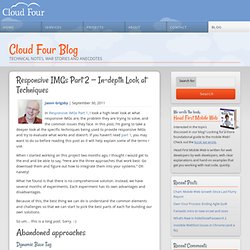 Open Web Device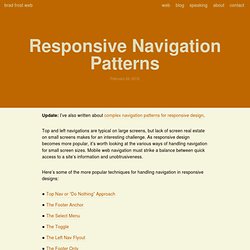 Update: I've also written about complex navigation patterns for responsive design . Top and left navigations are typical on large screens, but lack of screen real estate on small screens makes for an interesting challenge. As responsive design becomes more popular, it's worth looking at the various ways of handling navigation for small screen sizes. Mobile web navigation must strike a balance between quick access to a site's information and unobtrusiveness. Here's some of the more popular techniques for handling navigation in responsive designs: There are of course advantages and disadvantages of each method and definitely some things to look out for when choosing what method's right for your project.
In darts, hitting the bulls-eye is harder to do than hitting any other part of the dartboard. This is because the bullseye is the smallest target. This same principle can also apply to touch targets on mobile devices.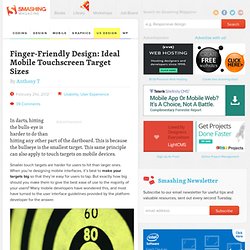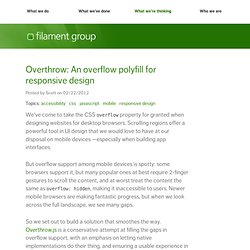 Posted by Scott on 02/21/2012 Topics: accessibility css javascript
Overthrow: An overflow polyfill for responsive design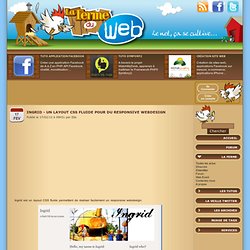 02. < h2 class = "section-title" >Some examples</ h2 > 04. < div class = "ingrid in-fourths" > 05. < div class = "unit" > 06. < div class = "box" > 07. < h2 >unit</ h2 >
Ingrid - Un layout CSS fluide pour du responsive webdesign
Cashew, by Kawet | Create your own iPhone, iPad and Android apps
★ Analytics, icons, and more A lean, mobile-friendly HTML template; optimized Google Analytics snippet; placeholder touch-device icons; and several mobile-focused tools and helpers.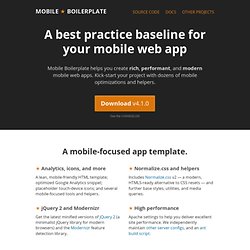 Popular Online Mobile Testing Applications - Design, Mobile, Tools - Doulce
Many wordpress developers forget about the performance of their themes and put weight only on design and multi-functionality. If it's looking good and have a lot of functionalities, why do we need to ... read more Here at Doulce, we love Google's homepage "Doodles." The online giant is well-known for its Halloween-themed logo each year. For your viewing pleasure, we have collected all of Google's Oc ... read more
iUI - Un Framework JS/CSS pour créer des web apps mobiles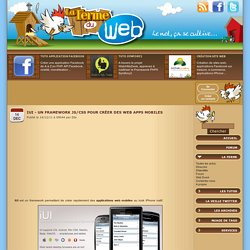 iUI est un framework permettant de créer rapidement des applications web mobiles au look iPhone natif. Créer l'application web mobile d'un site est devenu quasi incontournable aujourd'hui si vous ne disposez pas d'un design responsive. iUI est un framework qui vous sera très utile pour créer rapidement vos web app mobile tout en gardant une ergonomie et un style proche des applications mobiles natives. Le framework est composé d'un ensemble de fichiers Javascript, CSS et images: La prise en main d'iUI se fait rapidement, en combinant HTML et classes.