Design-i-like
Karl Groves. Daniel Eckler. Candy Buffet - Buffet de Golosinas Sofisticados y Fabulosos. Explicit Grid-based Website Designs: Showcase and Practice. Nowadays, majority of website designs are based on grids; days of chaotic layouts are gone, and today is the era of ordering and structuring, although it is invisible to the naked eye.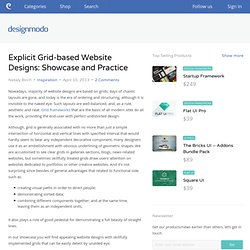 Such layouts are well-balanced, and, as a rule, aesthetic and neat. Grid frameworks that are the basis of all modern sites do all the work, providing the end-user with perfect undistorted design. Although, grid is generally associated with no more than just a simple intersection of horizontal and vertical lines with specified interval that would hardly seem to bear any independent decorative component, many designers use it as an embellishment with obvious underlining of geometric shapes. We are accustomed to see clear grids in galleries sections, blogs, news-related websites, but sometimes skillfully treated grids draw users' attention on websites dedicated to portfolios or other creative websites.
And it's not surprising since besides of general advantages that related to functional side such as: Web Design & Development News: Collective #58. Yuriy Zubarev. Web SEO e Social Media - Catania, Messina, Palermo, Ragusa, Siracusa, Trapani, Agrigento, Enna, Sicilia. Cédric Marteau Portfolio, Developer front end & UX Designer. CSSS: A brief introduction. Don't guess it, test it! - Google IO 2012. How to Create a Valid Non-Javascript Lightbox. I recently came across a solution on CSSPlay for a JavaScript free lightbox that uses invalid markup.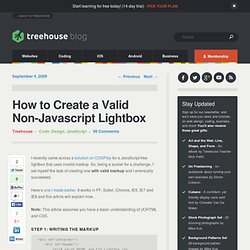 So, being a sucker for a challenge, I set myself the task of creating one with valid markup and I eventually succeeded. Here's one I made earlier. It works in FF, Safari, Chrome, IE6, IE7 and IE8 and this article will explain how…Note: This article assumes you have a basic understanding of (X)HTML and CSS. Step 1: Writing the Markup <div id="container"><div id="header"><h1>A valid XHTML and CSS Lightbox (no JavaScript)</h1><p><strong>by Jenna Smith</strong></p></div><div id="content"><h2>Click any of the links below to see it in action</h2><p>Lorem ipsum dolor sit amet, consectetur <a href="#">about us</a> adipiscing elit.
Is "Open" Still Enough? Reacting to new threats and old prejudices - Chris Heilmann. Blog | The Noun Project, The Visual Language of Wikipedia Iconathon in San Francisco. Andrew McCarthy. One Year Gift Subscription to SavetheSciFi.com | Singularity&Co. Give the gift of Saving the SciFi.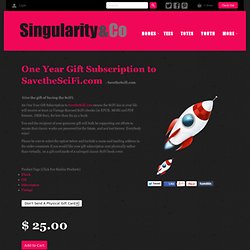 An One Year Gift Subscription to SavetheScifi.com means the SciFi fan in your life will receive at least 12 Vintage Rescued SciFi ebooks (in EPUB, MOBI and PDF formats, DRM free), for less than $2.25 a book. You and the recipient of your generous gift will both be supporting our efforts to ensure that classic works are preserved for the future, and not lost forever. Everybody wins! Please be sure to select the option below and include a name and mailing address in the order comments if you would like your gift subscription sent physically rather than virtually, on a gift card made of a salvaged classic SciFi book cover. Learn CSS Layout. Flat UI. Header 3The Vatican transitions to a Header 4Great American Bites: Telluride's Oak, The Header 5Author Diane Alberts loves her some good Header 6With the success of young-adult book-to-movie.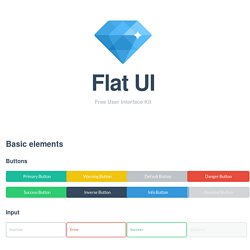 Building Firefox OS. I cannot design or code a responsive website | Opinion. Net magazine is the number one choice for the professional web designer and developer.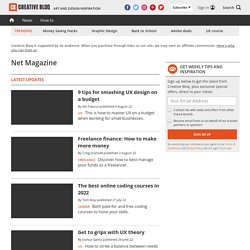 It's here that you find out about the latest new web trends, technologies and techniques – all in one handy package. Each issue boasts a wealth of expert tips and advice, including in-depth features and over 30 pages of advanced front- and backend tutorials on subjects as diverse as CSS, HTML, JavaScript, WordPress, PHP, and plenty more. net compiles the hottest new sites from around the web, and being the voice of web design, our mission is to source the best articles written by the best people in the industry and feature interviews and opinions crammed with inspiration and creative advice. In short, If you're serious about web design and development, then net is the magazine for you. Editorial. Nick Jones - Design and Code - Interface Designer - JavaScript/CSS/HTML5 Front-End Developer. Metal Fantaisies – In the moon for hell. Pourquoi le Parti Pirate peut (doit ?) être un parti libéral | Blog du Manchot Enragé.
Salux !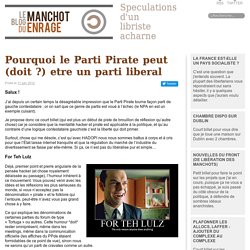 J'ai depuis un certain temps la désagréable impression que le Parti Pirate tourne façon parti de gauche contestataire ; or on sait que ce genre de partis est voué à l'échec (le NPA en est un exemple cuisant). Je propose donc ce court billet (qui est plus un début de piste de brouillon de réflexion qu'autre chose) car je considère que la mentalité hacker et pirate est applicable à la politique, et qu'au contraire d'une logique contestataire gauchiste c'est la liberté qui doit primer. Fluid CSS3 Slideshow with Parallax Effect. A more convenient way of browsing at Dribbble. Playtend. CV INTERRACTIF. LeoZakour. 15 Professional Photographer Portfolio Websites. For any photographer, an attractive and an effective portfolio website is the most valuable asset.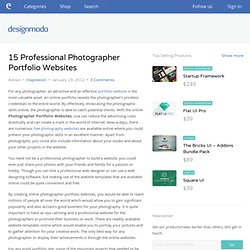 An online portfolio reveals the photographer's priceless credentials to the entire world. By effectively showcasing the photographic skills online, the photographer is able to catch potential clients. With the online Photographer Portfolio Websites, one can reduce the advertising costs drastically and can create a mark in the world of internet. Now-a-days, there are numerous free photography websites are available online where you could present your photographic skills in an excellent manner. Apart from photographs, you could also include information about your studio and about your other projects in the website.
Solarized - Ethan Schoonover. Precision colors for machines and people Solarized is a sixteen color palette (eight monotones, eight accent colors) designed for use with terminal and gui applications.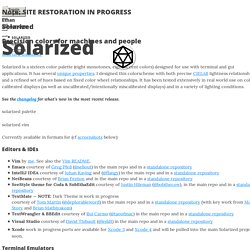 It has several unique properties. I designed this colorscheme with both precise CIELAB lightness relationships and a refined set of hues based on fixed color wheel relationships. It has been tested extensively in real world use on color calibrated displays (as well as uncalibrated/intentionally miscalibrated displays) and in a variety of lighting conditions. See the changelog for what's new in the most recent release. Le design pour les développeurs ! Hello Allez, ce matin on va réfléchir autour de la question du design & des développeurs… mieux, du design POUR les développeurs En effet, Johan Ronsse, un jeune designer vivant et travaillant à Gand, en Belgique s'intéresse beaucoup au design d'interaction et a réalisé cette présentation qui s'adresse avant tout aux développeurs afin de les sensibiliser au design.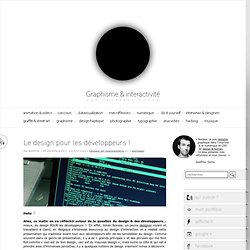 Kozea Community. Subtle Patterns | Free textures for your next web project. Introduction to Cocui — Rasmus Andersson. Developer Evangelism - home of the Developer Evangelist Handbook. Photography by Rickard Sund. Chez Jérémie. Curriculum vitae 2 by ~maurice on deviantART. CV Design - Une nouvelle collection de CV originaux pour inspiration. Voici une nouvelle collection de CV graphiques originaux qui en mettrons plein la vue à vos futurs employeurs !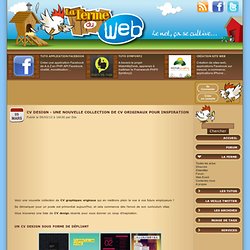 Se démarquer pour un poste est primordial aujourd'hui, et cela commence dès l'envoi de son curriculum vitae. Vous trouverez une liste de CV design récents pour vous donner un coup d'inspiration. Un CV design sous forme de dépliant Un CV très réussi avec un style très particulier qui fonctionne comme un dépliant. ArleyM.com | Chapter X.
---