TO SEE
Worth a Thousand Words: Non-Verbal Non-Fiction - a list by seanmiguel
Ten Great Movies for Placemakers
Martin Scorsese's "Hugo" beautifully illustrates the mix of uses and resulting social vibrancy at Paris' now-demolished Gare Montparnasse / Photo: Paramount Pictures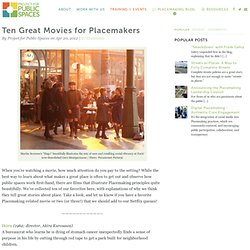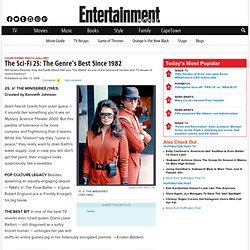 The Sci-Fi 25: The Genre's Best Since 1982
Image credit: MPTV.net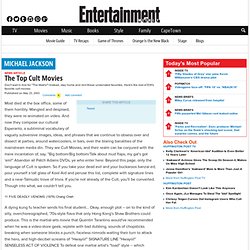 The Top Cult Movies
Most died at the box office, some of them horribly.
Science fiction is a genre of fiction with imaginative but more or less plausible content such as settings in the future , futuristic science and technology , space travel , parallel universes , aliens , and paranormal abilities. Exploring the consequences of scientific innovations is one purpose of science fiction, making it a "literature of ideas". [ 1 ] Science fiction has been used by authors as a device to discuss philosophical ideas such as identity, desire, morality and social structure.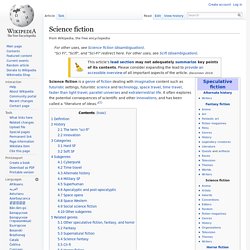 Cult film
A cult film , also commonly referred to as a cult classic , is a film that has acquired a cult following with a specific group of fans . Often, cult movies have failed to achieve fame outside small fanbases; however, there are exceptions that have managed to gain fame among mainstream audiences.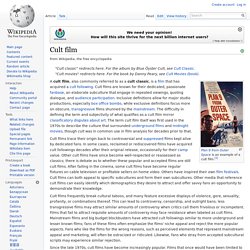 The first of the AFI 100 Years… series of cinematic milestones, AFI's 100 Years…100 Movies is a list of the 100 best American movies, as determined by the American Film Institute from a poll of more than 1,500 artists and leaders in the film industry who chose from a list of 400 nominated movies. The 100-best list was unveiled in 1998.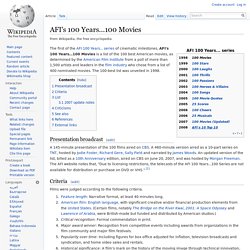 AFI's 100 Years...100 Movies
A cult video game is a video game that has maintained a dedicated cult following among gaming enthusiasts, although not meeting commercial success upon release.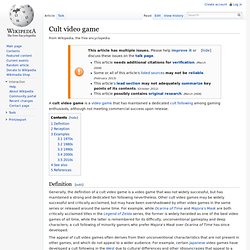 Cult video game
Wired 10.06: The Wired Sci-Fi Top 20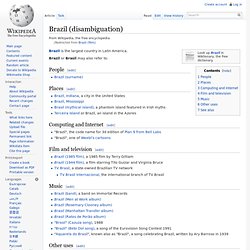 Brazil is a 1985 British science fiction fantasy film directed by Terry Gilliam . It was written by Gilliam, Charles McKeown , and Tom Stoppard .
Brazil (film)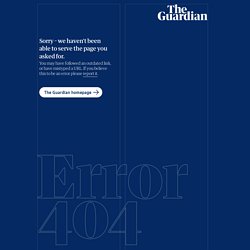 Well over a century has passed since the Lumière brothers frightened the life out of Parisians with The Arrival of a Train at a Station, and well over a million titles have since been recorded - if the Internet Movie Database is anything to go by.
Film 1000 films | Features | guardian.co.uk Film
Didattica WEB
My favourite film | Film
3D truss on Vimeo
Cable Nets and Grid Shells: Form-finding with Oasys GSA Fabric (Oasys Software Webinar)
Down the pan ... in Mumbai, where 60% of the population live in slums, there is one toilet seat per 600 people A series of familiar images unfolds on the screen: a wall of glass towers, a Brazilian favela, the Shibuya pedestrian crossing in Tokyo . Visual shorthand for a crowded planet, they are accompanied by an equally familiar sequence of statistics: half of humanity – or 3.5 billion people – now live in cities, and urbanisation is so rampant that by 2050 this figure is projected to be 75%.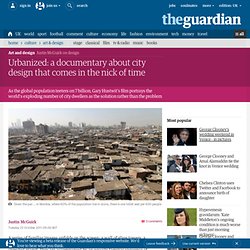 Urbanized: a documentary about city design that comes in the nick of time | Art and design
Biomimicry in Architecture
Aaron Dignan: How to Use Games to Excel at Life and Work :: Videos :: The 99 Percent
Play is nature's learning engine, says games researcher and author Aaron Dignan.
Learners Will Inherit the Earth: Alistair Smith on Reclaiming Education
by Maria Popova How to get unstuck, or why being a learner is infinitely better than being a knower.
BBC Horizon - The Secret You
Welcome to the Code - The Code - BBC Two