Global
Category:Economics lists by country. Worldwide Stock Exchange | Wall-Street.com. Ited Nations Statistics Division. The Internationalist: International Business. Research Areas: Main. International Monetary Fund Home Page. Countries. Penn World Tables 6.3. Penn World Tables 6.3 by Alan Heston, Robert Summers and Bettina Aten Advancing Knowledge through Technology.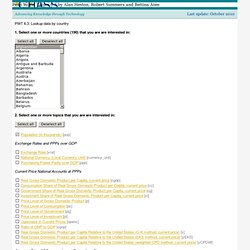 UNdata. Principal Global Indicators. International - Government - Statistical Agencies. Free Economic Indicators Charts, Historical Data, News and Forecasts.
Asia Pacific. Americas. South America.
---