Grid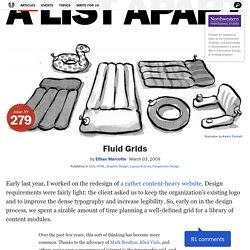 Early last year, I worked on the redesign of a rather content-heavy website. Design requirements were fairly light: the client asked us to keep the organization's existing logo and to improve the dense typography and increase legibility. So, early on in the design process, we spent a sizable amount of time planning a well-defined grid for a library of content modules. Over the past few years, this sort of thinking has become more common. Thanks to the advocacy of Mark Boulton, Khoi Vinh, and others, we've seen a resurgence of interest in the typographic grid, and how to use it on the web.
CSS, Accessibility and Standards Links
Math is beautiful. Does that sound a little strange? I sure thought so when I first started designing. Math is so rigid and often times boring, or so I thought.
30 Weblogs with Grid Based Design
Grid based designs is more popular and hot in the internet. A basic well designed grid systems layout can make your designs not only more beautiful and legible, but more usable. A grid is made up of vertical and horizontal lines and is the foundation of nearly every type of visual media.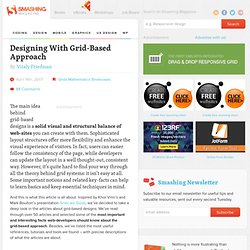 Advertisement The main idea behind grid-based designs is a solid visual and structural balance of web-sites you can create with them. Sophisticated layout structures offer more flexibility and enhance the visual experience of visitors. In fact, users can easier follow the consistency of the page, while developers can update the layout in a well thought-out, consistent way. However, it's quite hard to find your way through all the theory behind grid systems: it isn't easy at all.